Posted on: February 26, 2023, 10:03h.
Last updated on: February 26, 2023, 10:03h.
Spring training is certainly interesting so far with major league baseball's rules changes, one of which resulted in a walk-off tie game yesterday. This what you had in mind, Rob Manfred?
Bottom of the ninth. Tie game. Bases loaded. Full count. The dream scenario. And … Cal Conley didn't get set in the batter's box with 8 seconds left on the pitch clock.

Umpire calls an automatic strike. At-bat over. Inning over. This is the new reality. pic.twitter.com/Bv5k2xJ06j

— Jeff Passan (@JeffPassan) February 25, 2023
Well, the rules are the rules, and everyone will have to get used to them. Hitters, pitchers, umpires, fans, you name it. And you know what? Everyone will. And that 8-second clock is going to pad some pitcher's strikeout total, because there will be holdouts among hitters who cannot break their before-I-enter-the-batter's-box routine.
But those episodes will be few and far between, and the pitcher who leads the major leagues in strikeouts will do so because he has nasty stuff. That is how it has always worked, and that is why Nolan Ryan led the major league in Ks in 11 different seasons.
Gerrit Cole of the Yankees is nowhere close to Ryan, but he nonetheless had 257 last season, 14 more than Corbin Burnes of the Milwaukee Brewers. It was the second time Cole led Major League Baseball in Ks, and he is on the board this particular Sunday with enticing odds to do it for the third time.
RELATED: Aaron Judge Opens at +600 To Lead AL in Home Runs
The number is not quite as enticing as Judge's number, but it ain't bad. At DraftKings Sportsbook, Cole is +550 to Burns' +800 to be the league leader in Ks, BetMGM has the exact same lines, and BetRivers has Cole at +550 and Burns at +700. The other six sportsbooks operating in New York do not have strikeout leaders posted as of yet.
So much Yankee history tonight!

Gerrit Cole set the single-season club record for strikeouts! 👏 pic.twitter.com/Qo0HVrU32s

— MLB (@MLB) October 5, 2022
Nobody has yet posted stolen base props, which are going to be super interesting to look at because the distance between bases has been reduced because of the larger bases, and the pitch clock is going to cut down on the number of pickoff attempts, giving anyone with speed an extra edge to take that extra base.
"I don't want to give too many secrets away because I don't want anybody else reading what I'm thinking," Judge said Saturday in Florida. "But I'm going to try to replicate what I did last year, maybe add some new things … some new strategies, stealing bases. Shorter distance, bigger bases? There's some bases to be stolen."
We will keep an eye out on the odds of someone breaking Hugh Nicol's 136-year-old record for most stolen bases in a season: 136 for the Cincinnati Red Stockings in 1887. Nobody has had 60 since Dee Martin of the Miami Marlins reached that number in 2017, so keep your eyes open for those props. John Berti of the Marlins led the majors with 41 last year, and that number should be eclipsed by Memorial Day under the new rules.
What do you think – is Hugh Nicol's single season stolen base record of 138 in jeopardy in 2023?? Huge Nicol set the record in 1887, for reference 😆 #MLB #stolenbases #singleseasonrecord #largerbases #HugeNicol #alltimegreat pic.twitter.com/lNNfskBJmX

— Sports Betting Intel (@SB_Intel) February 18, 2023
#OTD in 1886, the first ever baseball trade took place when AA champion St Louis Browns (today's Cardinals) traded outfielder Hugh Nicol to Cincinnati Red Stockings for catcher Jack Boyle and $400 cash. The next year Nicol stole 138 bases for Cincy while Boyle hit .189 for Browns pic.twitter.com/493rJ6vgP9

— Old-Time Baseball Photos (@OTBaseballPhoto) November 12, 2019
Who Are Cole's Rivals for Most Strikeouts?
Burnes, the perennial Cy Young candidate for the Brewers, went from 234 strikeouts in 2021 to 243 in 2022 as he pitched 202 innings — 35 more than the previous season. He is the main challenger.
Dylan Cease of the Chicago White Sox and Spencer Strider of the Atlanta Braves are both listed at +1000 by DraftKings. BetMGM has Cease at +1000 and Strider at +1100, and BetRivers has new Yankees left-hander Carlos Rodon, who had 237 strikeouts last season for San Francisco, as the +850 third choice, followed by 38-year-old Max Scherzer of the Mets (+900), who had 300 Ks for the Washington Nationals in 2018. BetRivers also lists Case at +1000 and Strider at +1100. This leads us to believe that BetRivers' traders are more well-versed in baseball than the folks at DraftKings and BetMGM.
And that is worth noting, because gamblers need to know that the folks working at the sportsbooks are not always as sharp as the sharp bettors. Which, of course, is why there are sharp bettors. This is one of them, and he can been crushing college baseball because … well, who exactly follows college baseball?
CBB move added!!https://t.co/2xSj7gjxRQ

— Rooster (@phillyrooster) February 25, 2023
Astros rookie right-hander Hunter Brown is worth watching as a potential long-shot threat to Cole because he figures to step into the starting role vacated due to injury by Lance McCullers Jr. Brown is not on any book's strikeout leaders list, and FanDuel has him as the +800 third choice for the AL Rookie of the Year award for the defending champs.
But back to Cole. This guy is the Yankees' ace, he came up huge for them in the postseason last fall when they played a win-or-go-home game against the Cleveland Guardians, helping the guys in pinstripes come back from a 2-1 deficit to win the ALDS before they lost to the Astros in 4.
And +550 is +550. Not a bad line … although not as good of a line as the Judge HR line. But if you like both, the parlay on Judge to lead in HRs and Cole in strikeouts is +3638, but you will have to cross state lines to find a book that will accept that parlay. BetRivers, DraftKings and BetMGM will not. We know this: Barring injuries, both guys will be squarely in the mix in both of those statistical races.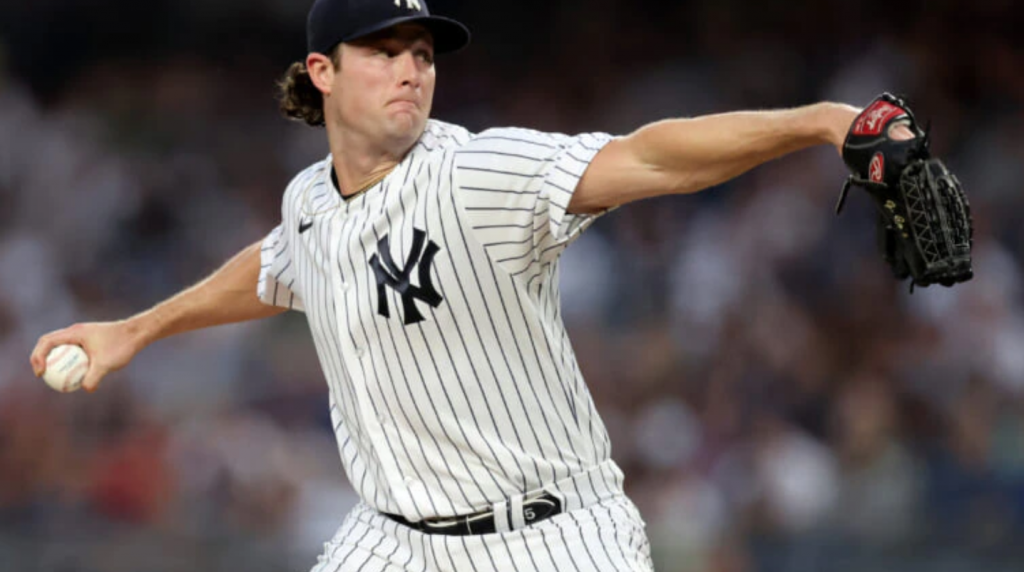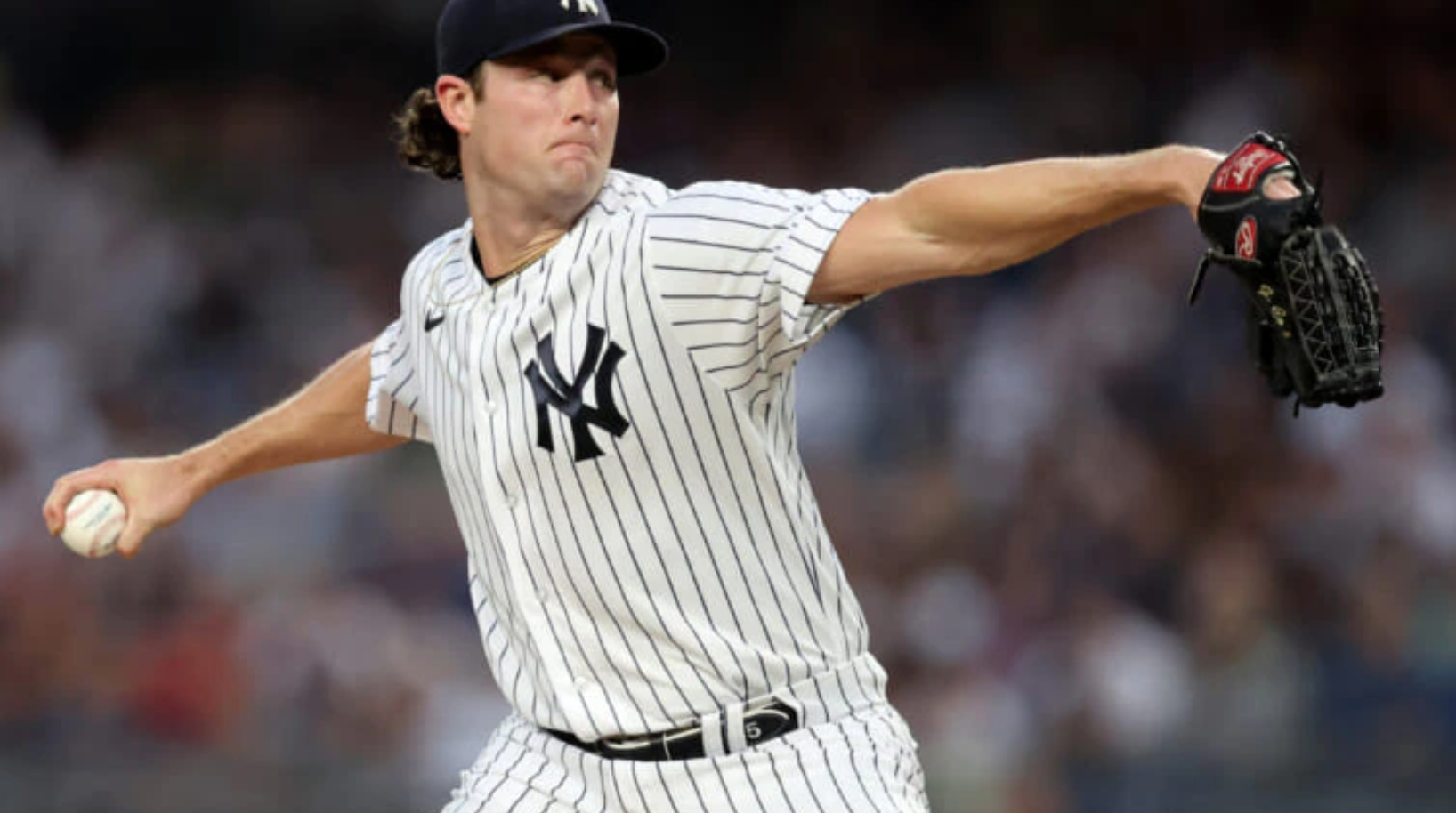 Source: casino.org