Posted on: April 11, 2023, 08:20h.
Last updated on: April 11, 2023, 08:53h.
Atlantic City casinos generated substantially more revenue in 2022 than the nine properties did in 2021, but their bottom lines collectively declined nearly 5%.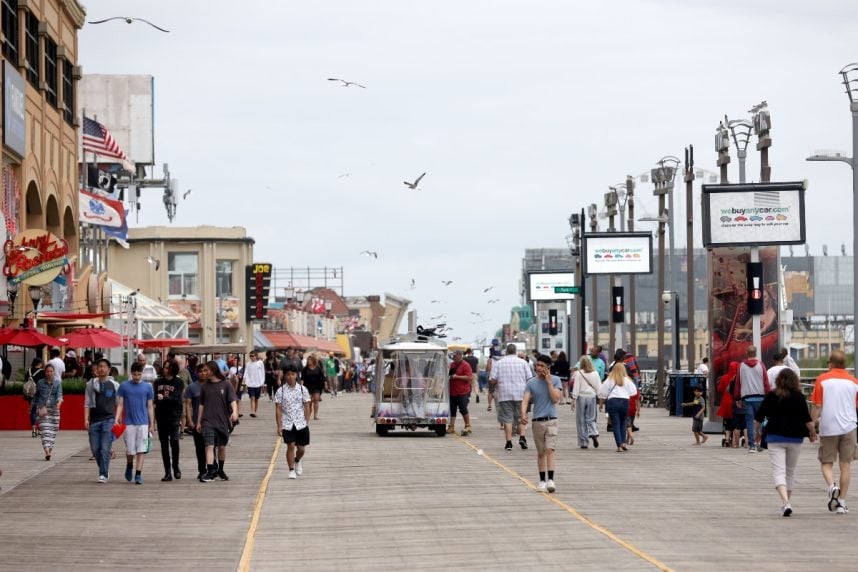 The New Jersey Division of Gaming Enforcement (DGE) issued net revenue and gross operating reports for the nine Atlantic City casinos on Tuesday. The data presented concerning numbers, as only two of the nine casinos reported higher profits compared with 2021.
Full-year net revenue was more than $3.3 billion, a 9.3% year-over-year jump, but gross operating profits dropped 4.6% to $731.2 million. The profit decline represents an earnings loss of about $35.6 million.
Borgata, the richest property in Atlantic City, saw its operating profit decline more than 19% to $140.3 million.
Hard Rock and Ocean, the newest casinos in town that both opened in June 2018, were the two winners. The Boardwalk resorts respectively saw profits increase by almost 20% and 6% to $128 million and $96.2 million.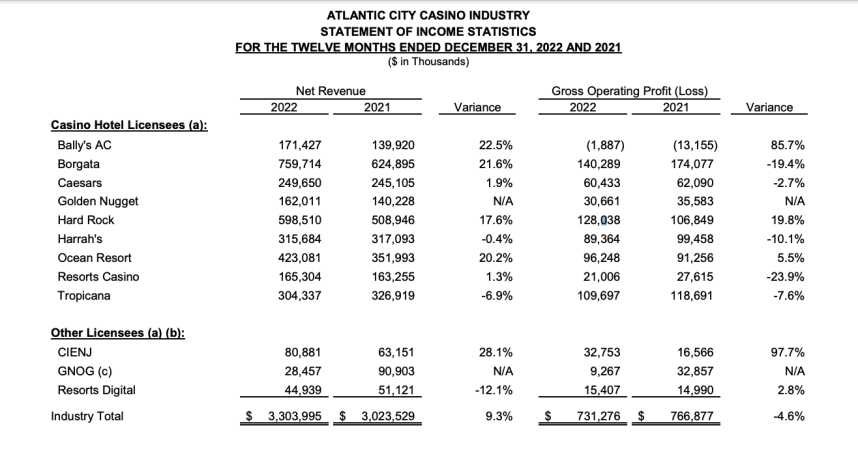 Expenses Outpacing Revenue
The monthly gross gaming revenue (GGR) reports for Atlantic City read well last year, as the nine casinos continued to generate higher income on their gaming floors and online channels.
2022 GGR from brick-and-mortar casinos, iGaming, and retail and mobile sports betting totaled more than $5.2 billion, an all-time record high that easily eclipsed the state gaming industry's previous best of $4.8 billion set in 2007.
The nine casinos have been stressing that the gross revenue reports are misleading as they relate to the overall health of the brick-and-mortar resorts. The industry argues that much of the gross revenue generated online through iGaming platforms and online sportsbooks is retained by the casinos' third-party partners like DraftKings and FanDuel.
Higher overhead, a result of the US experiencing record inflation last year, also greatly impacted profits as expenses outpaced the stronger net revenue.
You have revenue that's not growing fast enough, and couple that with expenses in some categories that are up 25% or more, and you can see how quickly this can erode profits," Resorts Casino President Mark Giannantonio told the Associated Press.
The final three months of 2022 were especially poor as profits tumbled nearly 32% to $119.3 million.
Smoking Debate Impact
The 2022 profit reports for the Atlantic City casino industry won't do any favors for the grassroots coalition that's seeking to eliminate indoor tobacco smoke from the gaming properties. The industry has been strongly opposed to those efforts and has argued that a full smoking ban would put Atlantic City at a competitive disadvantage with casinos in nearby Philadelphia where indoor casino smoking also remains permitted.
The Casino Association of New Jersey, which Giannantonio heads, projects that annual land-based gaming would decline by as much as 25% in the first year following a smoking ban. That would lead to 2,500 job losses, the industry claims.
Smoking opponents might counter that despite casino profits dropping almost 5% last year, all but one — Bally's — was still profitable. Bally's is undergoing a considerable renovation that continues to keep expenses far higher than revenue.
Source: casino.org