Posted on: April 6, 2023, 11:27h.
Last updated on: April 6, 2023, 02:39h.
The 127th Boston Marathon will run on Monday, April 17. The 2023 race marks the first time in its history that legal sports betting is operational in the 26.2-mile event's home state of Massachusetts.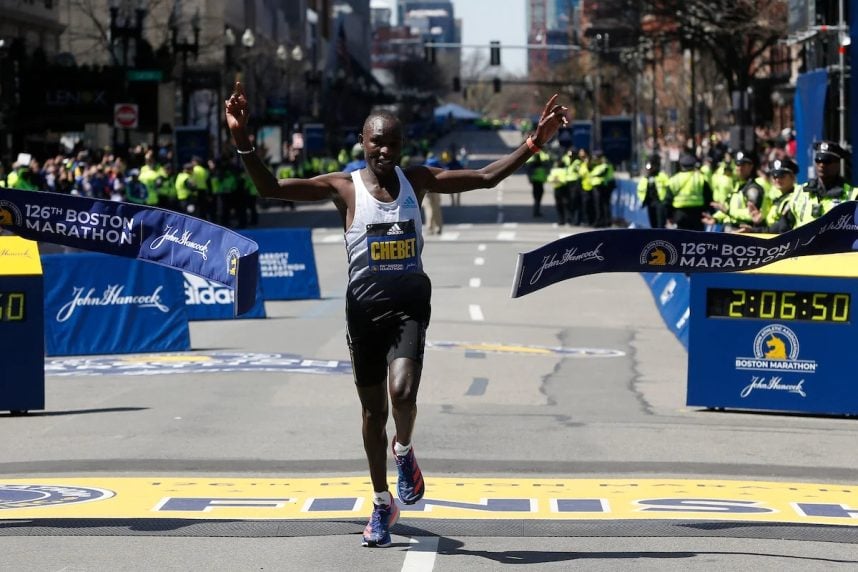 In-person retail sportsbooks opened on January 31 at Encore Boston Harbor and MGM Springfield. The Massachusetts Gaming Commission (MGC) allowed online sports betting to begin last month.
Massachusetts sports bettors currently have six regulated mobile sportsbooks to choose from: DraftKings, FanDuel, BetMGM, WynnBet, Barstool Sportsbook, and Caesars Sportsbook.
The March debut of online sports gambling was especially gratifying for DraftKings, the Boston-based daily fantasy sports firm that has since transitioned its focus to sports betting and iGaming. DraftKings, which has its headquarters just 1,500 feet east of the Boston Marathon finish line along Boylston Street, had wanted to include the race in its online sportsbook in Massachusetts.
Request Rejected
During the MGC's meeting on Thursday, the five commissioners mulled DraftKings' request to offer odds on this month's Boston Marathon. The sportsbook, which only operates online in Massachusetts, says it would offer lines on about 40 professional runners, not amateur racers.
"There are about 70 participants in the professional field for the 2023 marathon. DraftKings will only be offering the top 20 men and women professional runners, and men and women winning time (over/under) for wagering," the DraftKings request explained.
State gaming regulators in Kansas, Oregon, and Wyoming have already allowed licensed sportsbooks to include odds on major marathons, such as Boston. DraftKings says its 2023 Boston Marathon offering would include only futures, not in-race betting.
The Boston Marathon is the world's oldest annual marathon, and one of the most iconic events in all of sports. Traditionally held on Patriots' Day, the course takes runners from Hopkinton on winding roads to city streets into downtown Boston, with the endurance race culminating in Copley Square.
The Boston Athletic Association (BAA) opposed the DraftKings request to allow wagering on the Boston Marathon. The BAA told the MGC that preparations for the race have been underway for over a year, and allowing betting on such short notice would present integrity concerns.
"There is not sufficient time for the Boston Athletic Association, nor its many partners and agencies, to coordinate and fully ensure proper protocols are in place to support such a proposal for wagering on our event," a BAA letter to the state gaming regulators explained.
MGC Chair Cathy Judd-Stein said one of the agency's "critical components" in approving new events to the state's wagering catalog involves assuring that the event's governing body can protect the integrity of the outcome.
"In this case, we've heard directly from the governing body," Judd-Stein said, as she seemingly tipped her hand that she opposes allowing wagering on the 2023 Boston Marathon.
A subsequent informal vote was unanimous in opposition to allowing DraftKings to include Boston Marathon betting. Following a brief recess, the MGC made it official with a unanimous vote against the race.
Barstool Sportsbook Delayed
In related Massachusetts regulatory news, Plainridge Park told the MGC that the opening of its retail Barstool Sportsbook will be delayed. The casino, owned and operated by Gaming and Leisure Properties and Penn Entertainment, told the state recently that more time is needed to finish the construction of its in-person sportsbook.
Plainridge is reconfiguring the former Flutie's Sports Pub into a Barstool Sportsbook. The facility is now set to open this summer instead of late spring.
Penn Entertainment last year exercised its rights to acquire all of Barstool Sports, the social media and gaming firm founded by Dave Portnoy. In early 2020, Penn initially agreed to pay $163 million for a 36% stake in Barstool. But that deal included giving Penn the right to consider purchasing the remaining 64% of the company. Penn paid a total of $551 million for Barstool.
Source: casino.org