Posted on: April 20, 2023, 08:16h.
Last updated on: April 20, 2023, 08:18h.
A man accused in six casino robberies taking place since November — as well as eight other armed holdups — was arrested by Las Vegas Metropolitan Police Department (LVMPD) officers on Thursday.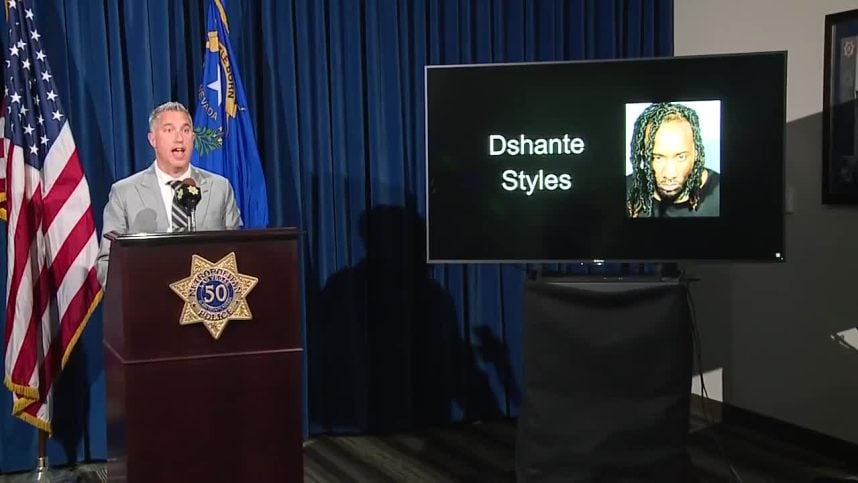 The suspect was identified as Dshante Styles, 33. He was processed by cops and appeared in local court. He was then placed in a jail cell at the Clark County Detention Center where he remained as of Thursday evening.
Local police on Thursday declined to specify which casinos were allegedly robbed by Styles.
But starting in November, several off-Strip casino cages were robbed in Las Vegas. The casinos were identified as the Gold Coast on November 16, the Green Valley Ranch on December 12, the Silverton on December 20, and the Rampart on December 24.
In January, LVMPD officers said the same suspect was wanted in each of holdups.
Police did announce the casino robberies for which Styles is charged began on November 16.
Styles was charged with six counts of robbery with a deadly weapon, two counts of attempted robbery with a deadly weapon, 11 counts of burglary with a deadly weapon, and five counts of grand larceny auto. Two of the eight armed robberies were carjackings.
He is also expected to be charged with domestic battery, authorities revealed.
Described as Dangerous
In a press conference on Thursday, Nick Farese, a LVMPD deputy chief, revealed that members of the department worked "long hours" and "tirelessly" to arrest Styles' for the "string" of robberies taking place in both Las Vegas and Henderson, Nev.
We quickly realized that the suspect was brazen and a threat to our community," Farese told reporters. He described Styles as a "dangerous individual."
On Tuesday, Styles allegedly took part in another robbery at an unnamed casino. LVMPD officers later discovered a stolen vehicle on Silverado Ranch Boulevard. Officers tied it to the earlier holdup.
Officers attempted to question Styles, but he fled.
On Thursday morning, LVMPD officers apprehended him. He was in possession of a firearm upon his arrest, police said.
This afternoon, Deputy Chief Nick Farese announced we have made an arrest in a series of valley casino robberies and carjackings spanning several months.

LVMPD enacted Major Case Protocol and arrested Dshante Styles, 33.

Watch this news conference for more details. pic.twitter.com/TZoYCfoHlE

— LVMPD (@LVMPD) April 20, 2023
If convicted on each charge, Styles could face many years in prison.
He is familiar with being in Nevada prison. He was sentenced for robbery in 2008 and two counts of robbery with a deadly weapon in 2009, according to Farese.
Styles has a long history of being a dangerous criminal," Farese added.
Other Alleged Robbers
Two other alleged casino robbers were apprehended recently for holdups on the Las Vegas Strip.
Resorts World was robbed on November 9, leading to the November 16 arrest of Zubaid Al Jarmi, 25. Al Jarmi allegedly handed a note to a Resorts World cashier at a high-limit cage. The cashier reportedly gave him $6K. He then left the casino in a taxi.
Caesars Palace was robbed on January 8. James Booth, 37, was arrested for that crime.
Cases against the two are pending in local courts.
This is a developing story. Check back for updates on Casino.org.
Source: casino.org