Posted on: February 19, 2023, 07:01h.
Last updated on: February 19, 2023, 03:35h.
California's tribal gaming nations have faced a couple of stiff challenges in recent years, but the leader of the trade group representing them said the sovereign nations have weathered the storm and then some.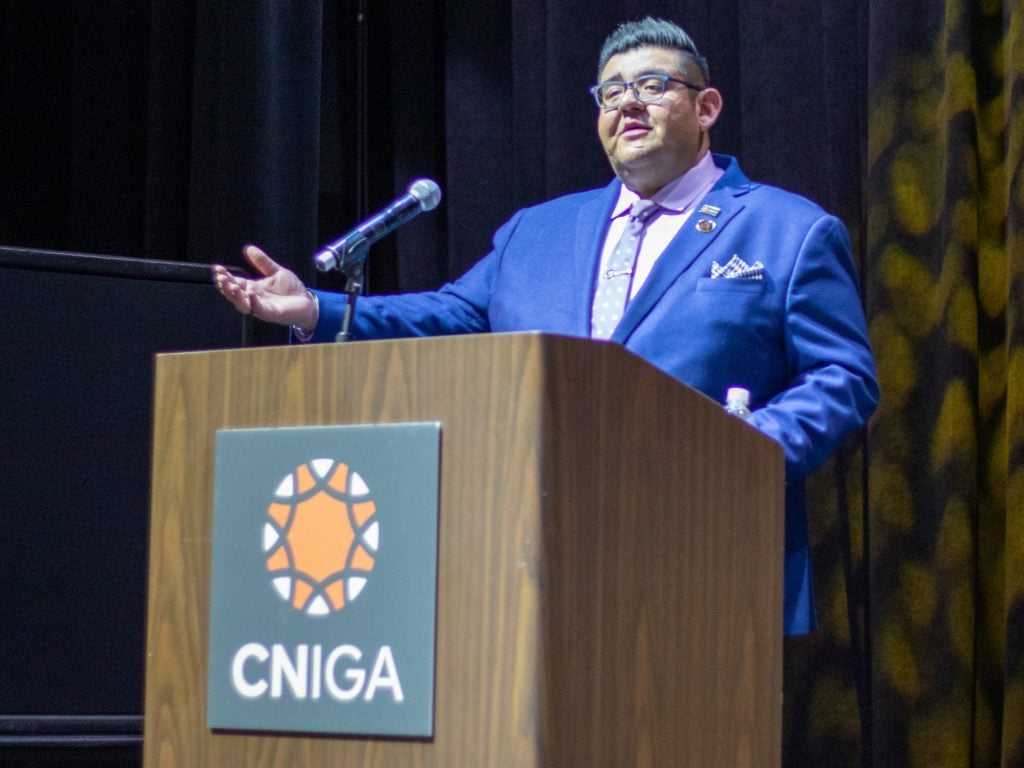 California Nations Indian Gaming Association (CNIGA) Chairman James Siva delivered that message in his State of the Tribal Nations address. That speech kicked off the Western Indian Gaming Conference, which ran from Tuesday to Thursday at the Sycuan Casino Resort in El Cajon, CA.
The conference was held for the first time since 2020 as the COVID-19 pandemic, and Siva noted it's a time for growth within California's tribal gaming community.
Within the past year, two tribes have opened new casinos in the state. The Elk Valley Rancheria opened a new casino in Crescent City in northern California, and the Wilton Rancheria opened its Sky River Casino near Sacramento. And CNIGA is growing as well, with Siva saying the addition of the Alturas Indian Rancheria, Big Sandy Rancheria of Mono Indians, the Colusa Indian Community, the Karuk Tribe and the Yocha Dehe Wintun Nation brings the group's membership to 47.
Siva: California Tribes Best to Operate Sports Betting
Siva, who also serves as the vice chairman for the Morongo Band of Mission Indians, said it was incumbent upon tribal nations to act in solidarity.
"I call upon all tribal leaders in the state to join with us in the continued protection of our sovereign rights," he said. "The best protection of Tribal Sovereignty is the enactment of Tribal Sovereignty, and that is the fundamental core of what this association was created to do."
That solidarity was prevalent last year as most tribes stood against Proposition 27, a measure proposed by national online sports betting operators that would have legalized online betting across the state.
DraftKings, FanDuel and other operators spent nearly $170 million to promote the measure, but it received only 17% support at the polls.
Proposition 26, a tribal-backed measure that would have allowed retail sports betting at tribal casinos and state-licensed race tracks, also failed with just 33% support. However, tribal gaming nations raised $237 million and spent most of that to ensure Prop 27's defeat.
Siva said Prop 27 should stand as a stark reminder of the strength of the tribal gaming industry in the state. He also made it clear tribes will not back down should sports betting operators make another push.
Tribes are by far the better entities to offer sports wagering in California than out-of-state commercial, for-profit corporations," he said. "We have a proven track record of operating well-run and well-regulated gaming establishments, and we are inherently rooted in California."
The earliest a sports betting referendum could take place again in California would be November 2024.
Tribes Seek New Cardroom Moratorium
Another group California's gaming tribes have clashed with over the years is the state's cardroom casinos. Tribal leaders accuse cardrooms of breaking state law by hosting house-banked Class III gaming tables, only tribal operators can offer those games in their casinos.
At the beginning of this year, California's moratorium on cardroom expansion expired, and with that, Siva said he fears "a major expansion of illegal gaming" may come.
That's why CNIGA backs Assembly Bill 341. The proposal by State Assemblyman James Ramos, D-Highland, would extend the moratorium for 20 years and would also nullify any license application for a cardroom that was not in operation before December 31, 2022.
Ramos is a former chairman of the San Manuel Band of Mission Indians. His bill also has the support of the California Cardroom Alliance because it does allow for modest expansions at existing smaller cardrooms.
In his speech, Siva said he'd prefer for the state to enforce gaming laws before discussing any cardroom expansions, but the sun setting of the moratorium makes that almost impossible.
"However, we need to stand firm in our negotiations and not let an extension of the moratorium be used as an endorsement of their continued illegal practices," he said. "Tribes have been good partners with the state government and its subsidiaries, and we deserve the same level of respect."
Source: casino.org