Posted on: May 1, 2023, 09:18h.
Last updated on: May 1, 2023, 09:18h.
Seneca Buffalo Creek Casino was forced to close for several hours on Sunday after a fire broke out at the New York State gaming property.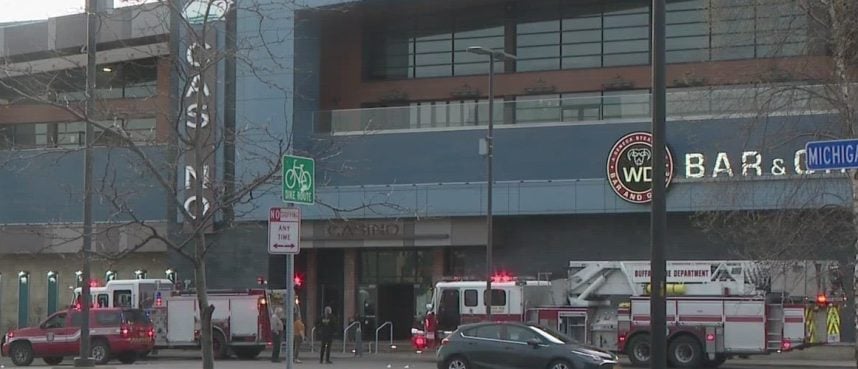 The blaze started at about 7 a.m. in a second-floor storage area. Buffalo Fire Department firefighters quickly extinguished the flames, according to Buffalo TV station WGRZ.
Water used to extinguish the fire forced the closing of the casino for about five hours. Damage to the property was estimated at $100K.
Fire officials didn't release a cause for the blaze.
Hard Rock Casino Death Leads to Guilty Plea
A man plead guilty last week to a reduced charge in connection with the 2021 fatal stabbing of his girlfriend at Hard Rock Hotel and Casino in Atlantic City.
Frankie E. Lane, 61, of Philadelphia, pleaded guilty to first-degree aggravated manslaughter.
Originally, he was charged with murder and weapons offenses — after turning himself into authorities, according to Philadelphia TV station WTXF.
When Lane is sentenced on June 23, he is likely to be given a 20-year term in New Jersey state prison.
He will be eligible for parole after serving 17 years, NJ.com, a regional news site, reported.
The victim, Sharon Whaley, 57, also of Philadelphia, was found deceased in a room at the hotel. She had been stabbed multiple times.
Caregiver Nabbed After Allegedly Leaving Woman in Casino
A caregiver was arrested on Saturday for allegedly leaving a nonverbal woman alone in Bangor, Maine's Hollywood Casino in March.
Tammy Knowlton, 60, of Troy, Maine, was charged with endangering the welfare of a dependent person, according to Maine TV station WABI.
The victim was abandoned in the gaming property's lobby. When police arrived, she appeared confused and was wandering in the building.
She was transported to a local hospital. By using surveillance video, police were able to identify a vehicle that had transported the woman to the casino. The woman was eventually returned to her residence.
Sioux Falls Man Displays Knife in Casino
A man threatened people with a knife in a Sioux Falls, S.D., gaming property on Friday. He also threw a glass that shattered, police said.
The unnamed suspect additionally shouted at others in the complex during the noontime incident. Casino staff asked him to leave due to his unruly behavior.
He initially refused. Eventually, he walked out of the casino, according to South Dakota TV station KSFY.
On Saturday, he was charged with aggravated assault and intentional damage, according to Dakota News Now, a regional news site.
There were no injuries.
The gaming property is located at 10th St. and Conklin Avenue. It wasn't identified.
Valley Forge Casino Confrontation
A casino visitor was arrested on multiple counts on April 22 following a disturbance at Pennsylvania's Valley Forge Casino.
Callahan Bright, 36, of Bryn Mawr, Pa., got into a struggle with an officer at the gaming property. Later, the suspect was found to be in possession of drugs, according to the Sanatoga Post, a regional news organization.
Bright was at a gaming table when he dropped a packet containing suspected cocaine onto the floor.
When a trooper attempted to subdue Bright, he allegedly threatened the state trooper and a security guard manager, the Post reported.
Bright was charged with drug possession, possession of drug paraphernalia, resisting arrest, disorderly conduct, and harassment, Pennsylvania State Police said.
It was unclear if anyone was injured during the struggle.
Clearwater River Casino Arrests for Meth, Fentanyl
Two suspects were arrested after they were seen allegedly trafficking suspected fentanyl and methamphetamine (meth) on April 20 at Idaho's Clearwater River Casino.
Robert Kay, 35, and Fawnda Bolin, 41, were both charged for allegedly selling fentanyl, marijuana, and meth in the casino's parking lot, according to regional news site Big Country News.
Police seized — from a car linked to the suspects — some 200 grams of suspected meth, 20 grams of marijuana, and more than 460 suspected fentanyl pills, the report added.
Also in the car was a marijuana pipe, a meth pipe, and empty packages, police said.
Kay was charged with trafficking methamphetamine, possession of marijuana with intent to deliver, and possession of fentanyl with intent to deliver. His bail was set at $75,000.
Bolin was charged with trafficking methamphetamine and possession of a controlled substance. Bolin's bail was set at $20,000.
Kay and Bolin were booked at the Nez Perce County Jail. Their cases were turned over to local prosecutors.
Source: casino.org