Posted on: April 11, 2023, 09:30h.
Last updated on: April 11, 2023, 09:40h.
A local fundraiser took place on Monday to benefit the workers who temporarily have no jobs. Montana's Nevada Jackpot Casino was forced to close after it was set ablaze in January.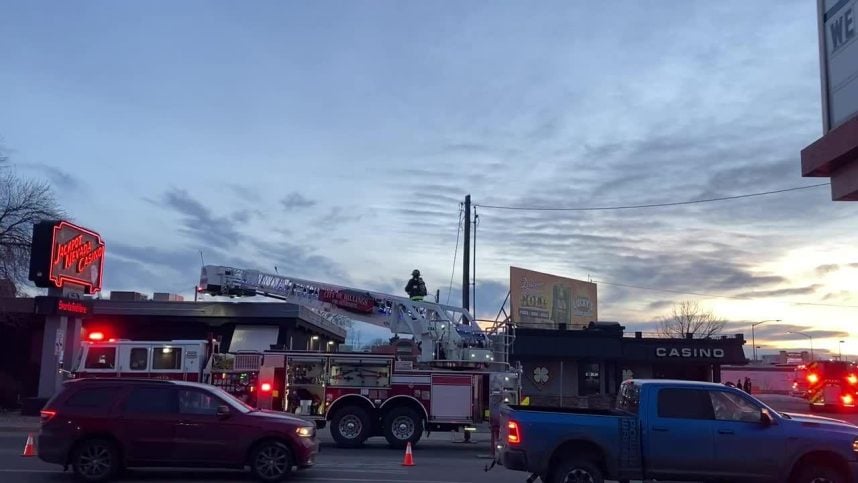 The family-run gaming property in Billings is shuttered for a few months while renovations to the heavily damaged complex are ongoing.
The casino may reopen by the end of this month, with a grand reopening possible in May.
Fire Intentionally Set
An investigation revealed the January 13 fire was intentionally set, according to Montana TV station KTVQ.
The arsonist apparently set a blaze near an exterior cooler. It burned undetected for about 90 minutes with flames burning a hole through the back of the building and causing extensive smoke damage.
A suspect was identified and local prosecutors are working on the arson case. No arrests have been made so far.
Monday's fundraiser took place at Hooligan's Sports Bar in Billings and included a silent auction and raffle with much of the proceeds going to benefit the workers.
It's been a looong road rebuilding from the fire that burned through our exterior wall almost three months ago but the end is finally in sight," the casino said in a recent Facebook post. "Thanks for keeping us in your thoughts. We can't wait to see you all when we open."
The casino owners are thankful for all the support from the community and say the gaming property means a lot to them.
"I have grown up around casinos. My dad opened this first when I was seven," Jessica McKee, a co-owner of the casino, recently told MTN News. "…They kind of feel like home to me. The thing that's been most great about this is our employees. We have a group of amazing women who love our customers."
Employees Look Forward to Reopening
The employees are looking forward to returning to work.
We've missed our customers a lot. We're tired of sitting at home," Teresa Uchtman, who worked at the casino for 23 years, told KTVQ.
Kay Bakken, who worked at the casino for 12 years, said, "It's going to be good to get back for sure. There's definitely going to be blessings that come out of this."
The community has reached out to help the casino workers and the property's owners. Management at one nearby casino is trying to help, too.
"We actually reached out to Jessica to help them out, and saw the community Monday thing at Hooligan's," Clay Smith, the Sapphire Lounge and Casino's assistant general manager, said. "We're like, you know what, calm down. We would love to help you guys."
Billings Carpet Cleaning and Water Damage Restoration, another local business, has also helped out. It began working on the renovations within hours of the fire.
Source: casino.org