Posted on: February 27, 2023, 07:18h.
Last updated on: February 27, 2023, 09:16h.
Sports betting isn't the only gaming subject Kentucky lawmakers want to address in Frankfort this year. Another topic of interest is so-called "gray games" or "skill games," which have become a hot topic across the state over the last couple of years.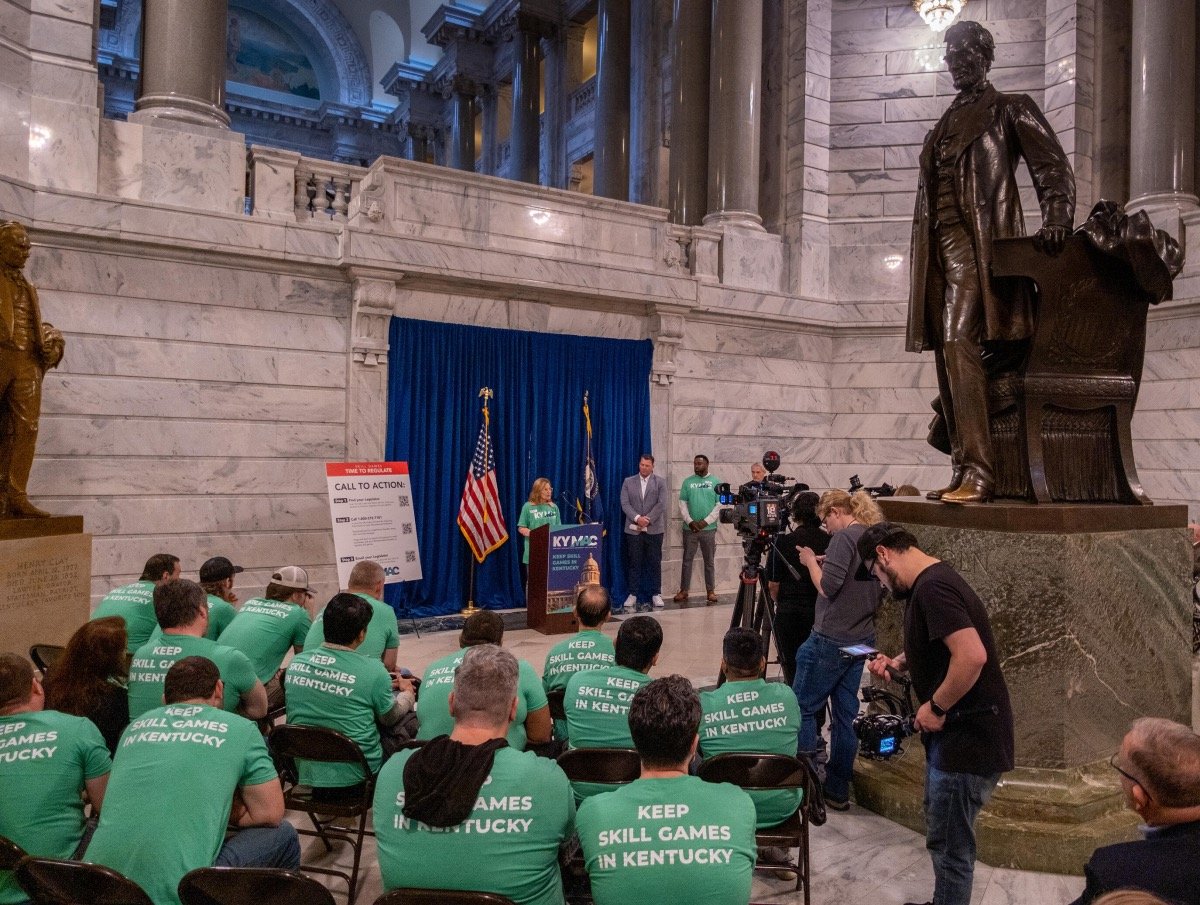 However, while a bill to ban such machines passed both chambers of the legislature last year, there is some debate about whether a similar bill can pass this year – especially since the House has 25 new members, a quarter of that body. And it's a debate that will cross political lines on both sides of the issue.
The debate on whether to legalize or ban also pits some business interests against each other. The state's equine industry is considered a cornerstone in Kentucky's economy, one which is supported heavily by revenues from slot-like historical horse racing machines. Industry leaders want the gray games out of the state.
On the other side, small businesses, such as mom-and-pop convenience stores as well as local bars and restaurants, say the skill machines helped them stay afloat during the COVID-19 pandemic and provide a significant revenue stream. On their side is Pace-O-Matic, a Georgia-based manufacturer that already has thousands of machines running in the state.
A report published by the American Gaming Association in November 2022 estimated there were more than 12,000 such machines in the state, although the Kentucky Lottery estimated the number earlier last year was closer to 15,500.
Whatever happens, legislators have a little over a month and just 14 legislative days left before the session must end on March 30. However, what they may decide during that time could determine whether the issue ultimately goes to state courts for a final decision.
Kentucky's far from the only state to debate whether to ban or allow the gaming machines. An ongoing lawsuit has blocked a ban from being enacted in Virginia, where lawmakers tried to sunset the machines in 2021. Machines are permitted in such states as Georgia, Nebraska, and Pennsylvania.
Gray vs. Skill
The name used to describe the machines depends on who does the talking. Those wanting them banned are likely to call them 'gray machines,' a reference that means the games are unregulated and, they say, are operating outside of the law. They add that convenience stores, bars, and other establishments offer lax oversight of the machines, which makes it possible for minors to bet on them.
State Rep. Killian Timoney, R-Lexington, told Casino.org some game manufacturers look for states where there's ambiguity about gaming laws, enter the market and then try to pursue regulation after they've established a formidable presence.
He believes there are thousands of machines statewide, with many arriving in the past year after the previous effort to ban them failed.
"They have come in. They have infiltrated every community," Timoney said. "They've gotten small business owners hooked on easy cash, and I don't know if that's necessarily the best way for us to be doing business in the Commonwealth."
Proponents, like Pace-O-Matic, use the term skill games. The Georgia-based company says its games do not operate like slot machines or historical horse racing machines, the slot-like gaming devices of which there are thousands offered at Kentucky tracks and satellite facilities. A player can win on its skill games by leveraging their memory and hand-eye coordination.
When the term gray game comes up in an interview, Pace-O-Matic Chief Public Affairs Officer Michael Barley told Casino.org, tongue in cheek, that he didn't know what that means.
It's a great branding term, but they're either legal or illegal," he said. "There's no such thing as gray in the law."
Pace-O-Matic said that before it installed machines at locations across the state,
Timoney Refiles Legislation to Ban Machines
This past week, three bills were filed in the state House regarding the machines. All were filed on Wednesday, the final day for lawmakers to file bills in that chamber.
Timoney filed two of the bills. The first, House Bill 539, would amend the definition of "advancing gambling activity" to clarify that it includes establishments that host, acquire, or maintain games or machines as well as those soliciting players, observing games, and managing operations.
The bill also clarifies that people gambling in "a social game of chance on equal terms" with other players are not breaking the law if they invite participants and use their facilities and equipment to host the game as long as they do it without taking a fee.
Timoney's other bill, House Bill 594, would establish civil penalties of up to a $25,000 fine for each illegal device found, with that money going to the county where it was found.
The bill also cleans up what was a discrepancy that caused last year's bill not to make it to Gov. Andy Beshear (D). Last year, the Senate amended the bill to include language protecting arcade games, like Skee-Ball, from being banned by the law, but the House did not vote on that amendment before the session ended, forcing lawmakers to bring it back up again this year.
HB 594 includes what Senate Majority Floor Leader Damon Thayer called the "Chuck E. Cheese language" to exclude coin-operated amusement games.
We don't want to put Chuck E. Cheese out of business," Thayer told Casino.org after a Kentucky Thoroughbred Farm Managers Club (KTFMC) event at Keeneland last Tuesday where he spoke with other lawmakers and urged members to get behind the effort to ban the gaming machines.
Both of Timoney's bills include emergency clauses, meaning they would take effect immediately upon Beshear signing them into law.
"Whereas the number of illegal game machines in Kentucky continues to multiply at an exponential rate, an emergency is declared to exist," both bills state.
First-Year Lawmaker Wants Gaming Commission
While Timoney looks to ban the games, another lawmaker, state Rep. Steven Doan, R-Erlanger, has filed House Bill 525. That bill would create a Kentucky Gaming Commission to regulate the machines.
Under Doan's legislation, businesses or organizations hosting the machines would be able to offer two per 500 square feet of public space, with a maximum of five machines. Truck stops would be able to host up to 10 machines.
Anyone age 18 and older would be able to play the games.
Game manufacturers would pay $500,000 for their initial license, while distributors would pay $100,000. The initial license fee for an operator would be $25,000, and it would be $250 for an establishment. Annual renewals would cost $100,000, $25,000, $5,000, and $250, respectively.
Distributors would need to test the machines and certify to the commission they are games of skill. Licensed machines would then receive decals that must be affixed to them.
HB 525 would also tax gross profits on such games at 6%. The state's General Fund would receive 40% of that money, with another 25% going to a first responder professional development initiative. Cities and counties where machines are located would receive 10%, and the counties would receive 20% for machines in unincorporated areas. Law enforcement agencies would receive 10%, and the remaining 5% would go to the gaming commission for administrative purposes.
The bill has the support of the Kentucky Merchants and Amusement Coalition, a group representing more than 375 small businesses and fraternal organizations. Wes Jackson, the association's president, said passing the bill would protect an essential revenue stream for many small businesses across the state.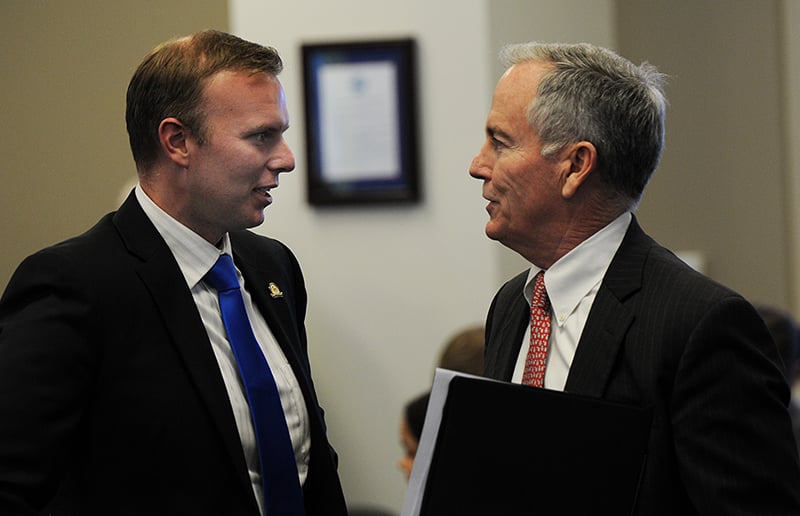 Doan is a first-year legislator who defeated then-state Rep. Adam Koenig in a primary last May. He won the general election in November. He said he filed the bill because the machines offer economic development potential.
"Under Kentucky law, games based on skill are legal," he said. "This bill will not only protect legal sources of income for Kentucky businesses, but it will also protect our communities by cutting down on predatory illegal gambling."
Issue Divides GOP, Democratic Lawmakers
The debate about the machines is complex enough. Politics adds another layer to that.
In Kentucky, stances on them ignore political ideologies. The issue divides Republicans, who hold large majorities in both chambers, and Democrats within their respective caucuses. It also divides lawmakers considered pro-gaming.
Last year, Timoney's bill in the House passed by a 50-31 margin, with 19 not voting. Voting yes were 39 Republicans and 11 Democrats, while 22 GOPers and nine Dems opposed the bill. As noted above, the House has 25 new members this year. Republicans now hold an 80-20 majority, up five seats from last year.
Legislation that would ban the machines is likely easier to pass this year for a couple of reasons. First, legislative leaders, including Thayer and House Speaker David Osborne, R-Prospect, support efforts to ban the machines. In addition, several key lawmakers in both chambers and both parties have connections to Kentucky's horse industry.
Thanks to everyone that made it to Frankfort for KEEP Day and thanks especially to our Leadership @damon_thayer @reposborne for stressing the importance of passing #HB594 banning illegal gaming. pic.twitter.com/NaAWwlpvZ1

— Ky Equine Ed Project (@horseswork) February 24, 2023
The other reason pertains to legislative procedures in Kentucky. This year is a non-budget year for the General Assembly. Per the state constitution, any bill that generates revenue needs a three-fifths majority in order to pass. That would mean Doan's bill would need 60 yes votes in the House and 23 in the Senate.
When the legislature returns to Frankfort on Tuesday, there will be 14 legislative days remaining in the session. A dozen will take place over the next three weeks. The General Assembly will conclude its session on March 29-30.
Source: casino.org