Posted on: April 11, 2023, 05:28h.
Last updated on: April 11, 2023, 06:07h.
Now that Kentucky has legalized sports betting, the question on everyone's mind now shifts from when will it pass to when will it launch?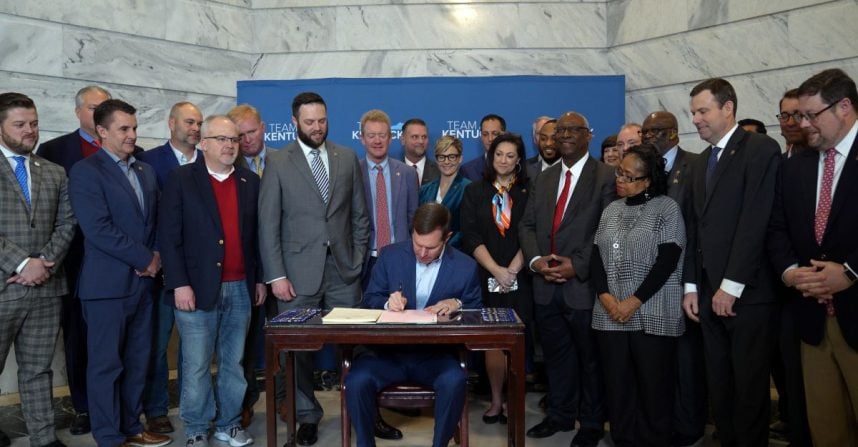 House Bill 551, which Gov. Andy Beshear (D) signed into law hours after the Senate passed it on March 30, gives the Kentucky Horse Racing Commission (KHRC) six months from the time the law is enacted – which will occur on June 29 – to set up the regulatory framework and get operators licensed to take bets. However, many hope the KHRC can expedite the process.
Senate Majority Floor Leader Damon Thayer, R-Georgetown, said in an interview with Casino.org that KHRC Chairman Jonathan Rabinowitz told him it would be a priority for the regulatory body to get either retail sportsbooks at racetracks or online apps approved for Kentuckians to bet on NFL and college football regular season games.
He knows that the public would love to be able to bet on football this fall, and he told me that he and the racing commission are going to work with the racetracks and the online providers to try to have one or the other available by football season," Thayer said.
Rabinowitz did not return a message seeking comment.
State Rep. Michael Meredith, R-Oakland, told Casino.org that the commission cannot approve regulations before the enactment date. However, he believes officials can do some advance work to get the ball rolling in preparation for then.
"I don't want this thing to be dragged out any longer than it has to be," he said. "Because people want this. It's been five years in the making. We owe it to the people of Kentucky to move this along as fast as we can."
New Jersey to Offer Help
During his weekly press briefing last Friday in Frankfort, Beshear let out an enthusiastic "oh yes," when he was asked if he was encouraging the commission to hasten the process, but then he quickly followed that they also "want to get it right."
The governor acknowledged that the first week of NFL regular season games "is a big starting date for people," but he would not commit to that just yet.
With three dozen states having approved sports betting already, he added that he wants the state to take a look at what those states did well – especially those that have a system in place close to what Kentucky plans to implement.
"We were not the first person to build this wheel," Beshear said.
Beshear also said he had spoken recently with New Jersey Gov. Phil Murphy (D), and that Murphy offered "technical assistance" to help Kentucky regulators. Many in the gaming industry consider the Garden State – the state that's responsible for opening the door for most other states to legalize sports betting – the standard bearer for regulation.
Those comments mesh with what Thayer said, with the senator, who rarely sees eye-to-eye with the governor, adding that the onus is now on the KHRC, the tracks, and interested operators, and that there are several examples of states to emulate.
"I just encourage them all to work well together to try to get this going as quickly as possible, but I advise sports bettors, who have shown remarkable patience for five years, that it could take up to six months," he added.
About the Kentucky Sports Betting Law
Under the law, the state's nine racetracks along with their satellite historical horse racing facilities and simulcasting centers will be allowed to host brick-and-mortar sportsbooks. Each track can partner with up to three online providers.
"All of our HRM facilities throughout the state were designed with this possibility in mind and will be ready to offer sports betting under the regulations and timing of the Kentucky Horse Racing Commission," Churchill Downs Incorporated said in a statement after HB 551 was signed into law. Besides its namesake track in Louisville, the gaming company owns three other tracks and two satellite facilities in the state and is also in the process of building two more.
Work Remains for Operators, Vendors, Too
So, there's a lot of enthusiasm, and understandably so, for launching as quickly as possible in Kentucky. However, it's not as simple as setting up a couple of betting windows or kiosks on the gaming floor or just rolling out an application for bettors to download.
In other states, the pre-launch process has included such steps as testing equipment, inspecting facilities, completing and reviewing license applications, conducting background checks, determining what events sportsbooks can offer, and much more. For online sports betting, establishing a geofence – the virtual boundaries from which apps can legally take wagers – is a crucial part of the process.
The Wire Act, a more than 60-year-old federal law, outlaws the use of communications equipment to transmit sports betting information across state lines. Companies like GeoComply help operators ensure bettors are physically in a legal jurisdiction before they can place a wager.
Mapping each state can an arduous process, especially if there are areas where wagering is restricted, Lindsay Slader, the Canadian-based company's senior vice president of compliance, told Casino.org. GeoComply also does more than just determine a bettor's location, she added. It also provides other security and fraud detection services that can be unique to sports betting apps.
The signup bonuses are huge," she said. "There's not very many online transactions that you can have today where you deposit a small amount of money and could potentially walk away with a very large sum of money out of that. So, it's ripe for exploitation without the proper protection."
And those systems also need to be tailored to meet each operator's platform specs and other needs. As a result, those also take time to develop and implement.
Lots of Options for Kentucky to Follow
As states have legalized sports betting, one thing has become clear: Very few have done so the same way.
Several states have tied sports betting licenses to casinos that operate there. Some have allowed professional sports teams or other businesses to partner with operators. In a few, the state lottery manages it. Not all states offer online wagering, either, and then there's Tennessee, which only allows online apps.
Some states have approved operators on a one-by-one basis to launch, and others, like Ohio, set a universal launch date.
Because of all those variables, the time from legalization to launch varies for the states that have passed a sports betting law after the May 14, 2018, US Supreme Court decision that overturned the Professional and Amateur Sports Protection Act.
Using data compiled by the American Gaming Association, six states – Michigan, Iowa, Rhode Island, Indiana, Kansas, and Connecticut – have needed less than 130 days to go from signing a bill into law to celebrating the first bet. In five of those states, retail operators launched first, with apps launching later. Michigan needed just 83 days to open retail sportsbooks at the three Detroit casinos in March 2020. But online operators didn't roll out until 11 months later.
Indiana, Kentucky's neighbor to the north, launched in 112 days but did so on a one-by-one basis starting on September 1, 2019, with brick-and-mortar sites. The first apps would not go live until Oct. 3, 2019, but again, they were on a one-by-one basis.
Of the six, only Kansas, which has six online operators, launched retail and mobile on the same day, 113 days after sports betting became law. The online launch was a soft opening, with the full rollout a week later.
On the other end of that spectrum are states like Ohio, which needed 376 days from passage to launch on January 1, and Tennessee, which launched on November 1, 2020, 528 days after lawmakers approved wagering.
Ohio's launch was universal, with 16 online operators, 13 retail sportsbooks, and hundreds of kiosks starting on the same day. Tennessee did not have a gaming commission. The state's lottery initially set up sports betting regulations and approved the first operators.
Source: casino.org