Posted on: May 3, 2023, 03:54h.
Last updated on: May 3, 2023, 03:54h.
One of the events you won't see at the proposed Las Vegas Athletics ballpark, outside baseball season, is the National Finals Rodeo — at least according to a report in the Las Vegas Review-Journal.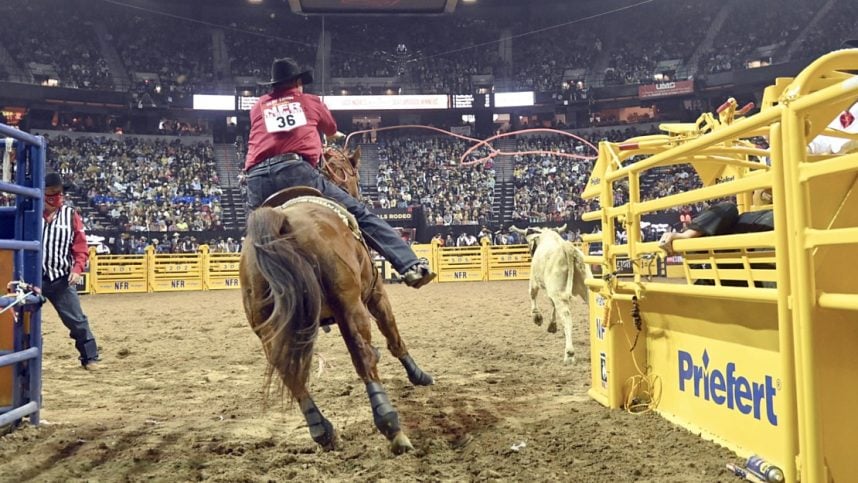 Quoting an unnamed source, the newspaper reports that the annual festival of 10 western-themed events — which drew 173,350 paid spectators to Vegas' Thomas & Mack Arena in 2022 — isn't among the tenants rounded up by the MLB team.
The A's play 81 home games a year, usually from late March to September or (though not since 1989) well into October. The team is scouting for other sporting events that might provide regular downtime income for its proposed Las Vegas stadium.
Last month, the A's announced entering into a binding agreement to purchase 49 acres of land owned by Red Rock Resorts. Just west of the Las Vegas Strip and north of Allegiant Stadium, that's the site previously occupied by the Wild Wild West Gambling Hall & Hotel, which the operator shuttered last September and later demolished. The land's sale price wasn't disclosed, but some analysts estimate it was somewhere between $100M-$150M.
The ballclub is expected to break ground on that land for a 30,000-seat stadium with a retractable roof sometime next year. The A's reportedly seek $500 million in public assistance to defray its estimated $1.5 billion cost. The team hope to begin playing in the new facility in 2027.
The House That Built Me
Since 1985, the NFR has been a staple of UNLV's Thomas & Mack Arena — though it was relocated to the Texas Rangers' Globe Life Field when Las Vegas was shut down during the COVID-19 pandemic.
The Thomas & Mack's twin tunnels make it ideal for the separate entrances required for competitors and livestock entering the rodeo. (While it is not clear how many tunnels the A's plan for their stadium, T-Mobile has just one.) But the Thomas & Mack is over 40 years old, and competition from newer venues for its proven audience could yield offers too lucrative to refuse.
In addition to the A's, LA-based developers the Oak View Group are also building their own arena. Their 20K-seater, just four miles south of Mandalay Bay, is part of a $3 billion entertainment complex that also features a $1 billion casino hotel. The project will break ground sometime this year, the company announced last year.
The Oak View Group hopes to attract an NBA team to its arena. However, since the NBA's regular season runs from October through April, it would conflict with NFR's schedule.
"As these venues start to come online, we'd certainly like to have these discussions," Tim Keener, president of the NFR's promoter, Las Vegas Events, told the R-J. "We love Thomas & Mack, but you've got to do your due diligence and look around and see what's out there available."
Will NFR Go AWOL?
The R-J's report noted that the Professional Rodeo Cowboys Association's commitment to host the NFR in Las Vegas ends in 2025. This has led to speculation that the event might hightail it out of Vegas entirely.
Keener offered the following words of encouragement, though they fall short of a guarantee: "I think the cowboys want to be here, the fans want to be here and … we all want the NFR to stay here for years to come."
Source: casino.org