Posted on: June 15, 2023, 02:54h.
Last updated on: June 15, 2023, 03:28h.
Massachusetts' lead gaming regulator is stepping down next month after a decade-long career that included legal tussles with disgraced casino magnate Steve Wynn, the aftermath of the Covid-19 pandemic, and the launch of sports wagering in the commonwealth.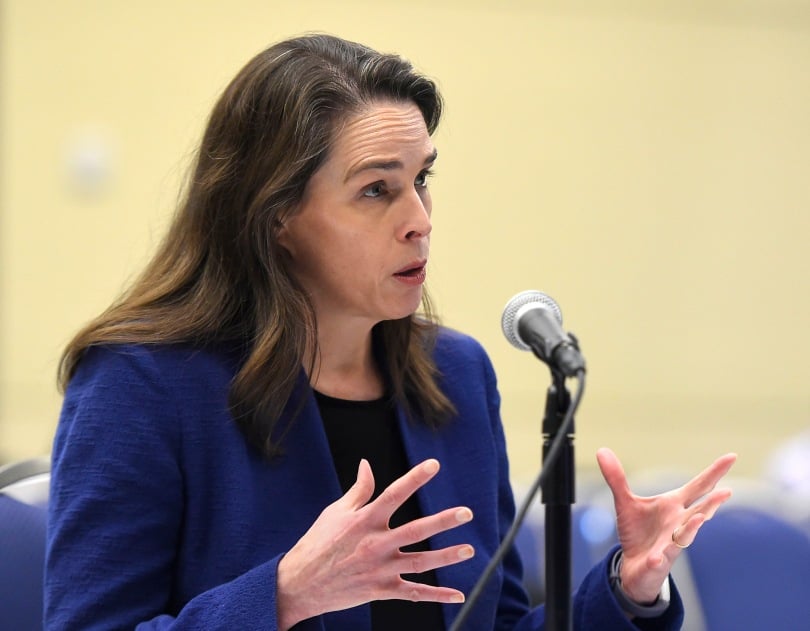 Karen Wells, the Massachusetts Gaming Commission executive director, will depart the agency effective July 14, the commission announced Thursday.
Wells joined the commission in 2013 as the director of its Investigations and Enforcement Bureau, and she served multiple stints as interim executive director before assuming the role full-time in September 2020.
The departure appears to be amicable, with Wells and Chair Cathy Judd-Stein offering effusive praise for each other in a statement from the commission.
"Karen is the model of a leader, and her influence can be seen in everything the MGC does … Her strategic abilities and steady presence enabled the MGC to stand up a sports wagering industry committed to consumer protections in a timely fashion," Judd-Stein said in a statement. "We wish her the very best in the future."
Pandemic, Sports Betting Law
As executive director, Wells is the executive and administrative head of the MGC, and is responsible for administering and enforcing relevant gaming law provisions. The governor or other elected officials politically appoint the MGC's five commissioners.
Wells was interim executive director in the summer of 2020 when Massachusetts regulators and casino operators worked to reopen in the wake of the coronavirus pandemic. She also oversaw the implementation of new sports betting regulations after wagering was legalized in 2022.
"Together, this team created the infrastructure for a new state agency, opened three casinos, weathered a pandemic, and launched the new legal sports wagering industry," Wells said in the statement. "Today, the agency's core responsibilities are operating smoothly, and I have every confidence our team will continue the great work we have done together over the years."
Wells didn't disclose her next steps and declined a request for an interview through an MGC spokesman.
Wynn investigation
While Wells was running the investigations unit, it uncovered evidence that Wynn Resorts failed to disclose sexual assault allegations against its then-CEO when it applied for its Massachusetts casino license.
In 2018, Wynn sued Wells along with the Commission itself and his former company in an effort to block the investigation. The lawsuit slowed the investigation but failed to derail it altogether.
As a result of the investigation, the commission levied a record $35 million fine against Wynn Resorts in 2019, but commissioners stopped short of blocking the company's Encore Boston Harbor from opening that year.
That wasn't the first time Wells found herself the target of casino litigation. She also was named as a defendant in a 2015 lawsuit from Caesars Entertainment Corporation that was dismissed by a federal judge.
Source: casino.org