Posted on: June 11, 2023, 02:09h.
Last updated on: June 11, 2023, 02:13h.
Las Vegas' largest casino group is waving the white flag in its culture war against its youngest visitors. MGM Resorts is now allowing selfies and videos to be taken at the nine casinos it operates on the Las Vegas Strip, according to a new report in the Las Vegas Review-Journal.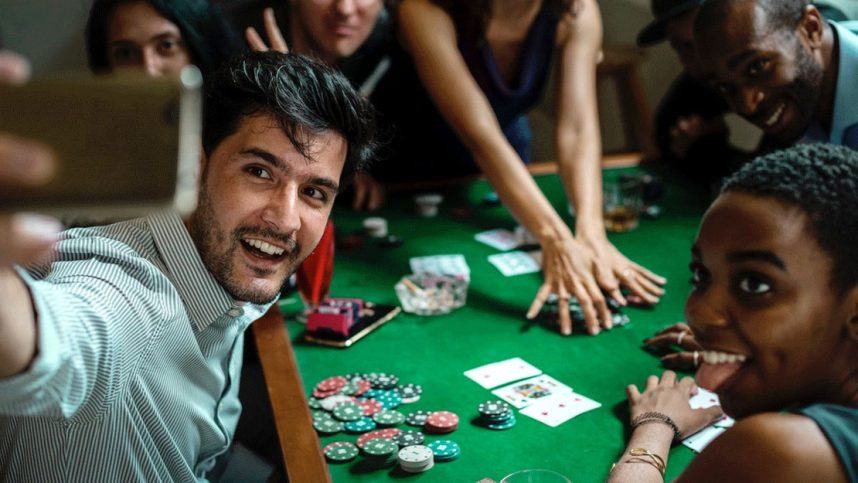 Guests of the MGM Grand, Bellagio, ARIA, New York-New York, Excalibur, Luxor, Mandalay Bay, Cosmopolitan, and Park MGM are now permitted to shoot selfies and short videos of themselves playing table games, slot machines, and poker.
Slot players are allowed photos and "short video clips" of their own play, taken with their own mobile devices, according to the R-J. Table game and poker players may only shoot or video their own hands. And livestreaming is still prohibited in poker rooms.
All photos and videos must be for personal, not commercial, use.
According to the R-J, the new policy draws the line at "recordings that disrupt the guest experience or the normal operation of the casino," with discretion on those calls up to casino officials.
It also prohibits photographing or videoing casino staff or other guests. Deciding when to make this call will be difficult, however, since many people can unintentionally appear in the background of selfies and videos. Most likely, MGM will only enforce it in response to complaints.
The Bigger Picture
Restricting photography traces back to the very first licensed Nevada casinos in 1931. Though never against the law, taking photos of a live gaming table or slot machine could not only get you removed from a casino but banned from ever entering it again.
This policy was enacted to protect the privacy of other guests. Not everyone patronizing a casino wanted everyone else in their lives knowing about it — particular in the early days of Vegas. That guest unwittingly caught playing craps in the background of a newspaper photo could have been a public official or an undercover cop. And the woman gambling next to him could have been his mistress or a prostitute.
MGM said it adopted its new policy "to enhance our guests' experience as they play slot machines, table games and poker while minimizing disruption to our guests and the normal operation of our casino," according to the R-J report.
What the corporation is not saying is that its hand was forced. Members of the Millennial (born 1981-1996) and Gen-Z (1997-2012) generations are their future customers, and they are used to crafting social media posts wherever and whenever the mood strikes.
Las Vegas has succeeded in attracting them to Las Vegas by offering them hip nightclubs and dayclubs, trendy food halls, A-list concerts, electronic music festivals, and professional sports. But the members of these generations who are old enough to gamble in casinos already do so less than preceding generations did (though they do enjoy online sports betting more). Infringing on what they perceive as one of their rights may cause them to gamble elsewhere, or to stop gambling altogether.
The annual visitor profile study from the Las Vegas Convention and Visitor Authority identified 53% of Las Vegas visitors in 2022 as between 21 and 39. That's a 7% year-over-year increase and 16% higher than in pre-pandemic 2019. However, this study did not break gambling habits down by age — perhaps because of the bad news the statistic would have revealed.
Clearly, not negatively impacting the experiences of younger casino floor guests is now as big of a concern as protecting guests who may not want to appear in the background of a photo or video.
Photo Realism
Some casinos have actively encouraged photography for years — such as the Four Queens, Rampart, and Strat casinos downtown — but this was merely their attempt to distinguish themselves from the larger and hipper Strip casinos, which didn't.
MGM Resorts experimented with photo and video tolerance at some of its properties. At Park MGM, for instance, it dedicated specific zones on its floor — away from live tables and slots — for selfie-taking. But this obviously wasn't enough of a compromise.
In reality, what most Strip casinos implemented was a nuanced policy that considered the type of photographs and video being taken before asking guests to refrain.
Most guests were good taking one or two quick selfies just about anywhere on a casino floor. But photographing an active-play table, even in the background of your selfie, was less tolerated. (In addition to potentially violating guest privacy, casinos were concerned that taking photos could be part of a cheating scam.)
Until now, any videography, live streaming, or video conferencing that wasn't cleared in advance was almost universally off-limits.
If MGM's new photo policy succeeds, the company may take it to casino resorts in other cities, according to the R-J.
Source: casino.org