Posted on: April 11, 2023, 08:23h.
Last updated on: April 11, 2023, 08:47h.
Corena Leone, formerly known as Corena Chasing Horse, this week revealed details of alleged repeated sexual assaults by Las Vegas defendant Nathan Chasing Horse. They began when she was 14.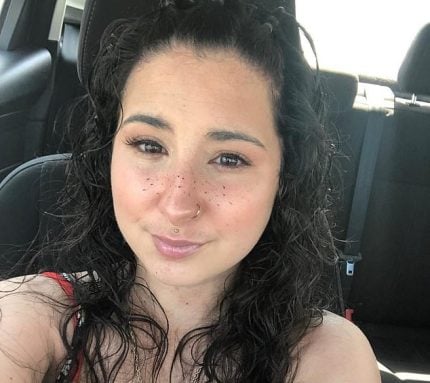 In an interview with Las Vegas TV station KLAS, Leone, now 25, said he took her into a closet where the reputed "medicine man" told her he would heal her cancer-stricken mother in exchange for sex with the teen.
He then ordered her to remove a maxi dress "and it happened," she said. Afterward, he gave her a birth control pill, which she suspected was Plan B.
She Calls it Rape
"What happened there was rape and there's no other label to put on it," she said. "That was my life and he took it from me."
She didn't tell anyone about the assault at the time, with Chasing Horse telling her it was a "sacred secret." Leone said she first met Chasing Horse when she was six and that he later began grooming her for a wife. He asked her mother for consent to marry the girl when she was 16. Leone moved in with him at the age of 18.
She was a member of the cult, and back then saw his marriage proposal as an honor, KLAS reported.
But their relationship included instances when he hit her, blindfolded her, and ordered her to have sex with other men while at hotels, Leone claimed.
"He is a narcissist, and he knowingly does what he does, and he doesn't have any remorse for it," she said about the "Dances With Wolves" movie actor and leader of The Circle cult.
Leone attempted suicide as a result of the emotional pressure. Eventually, in 2021 she broke away from Chasing Horse. Last year, she posted details of their relationship on Facebook and continues to face a personal struggle from the experience.
While I have the dark moments and I do struggle with it, at the end of the day my unhappiest day out is still better than my happiest day in there," she told KLAS.
Leone says she broke her silence because she wants to see other victims overcome their fears of coming forward. Leone is one of two victims for which Chasing Horse now faces 18 counts in Clark County, Nevada.
On January 31, he was arrested at his North Las Vegas home where he lived with several wives.
Lawyer Wants All Charges Dropped
Chasing Horse was indicted by a grand jury on 10 counts of sexual assault against a minor under the age of 16, six counts of sexual assault, open and gross lewdness, first-degree kidnapping of a minor, and trafficking in a controlled substance. The drug charge was dropped on Friday by Clark County District Court Judge Carli Kierny.
Clark County Public Defender Kristy Holston has asked that all charges against Nathan Chasing Horse be dismissed and now wants a ruling by the Nevada Supreme Court. Chasing Horse also faces charges in Nevada federal court, as well as counts in Montana and Canada.
He remains in the Clark County Detention Center on bail of $300K. He's next scheduled to appear in court on Wednesday and his trial is scheduled to start in Las Vegas on May 1.
Source: casino.org