Posted on: June 9, 2023, 08:39h.
Last updated on: June 9, 2023, 08:59h.
NCAA President Charlie Baker was supportive of legal sports betting while governor of Massachusetts. It's a position he's continuing to embrace at the nonprofit organization that regulates student athletics across the US.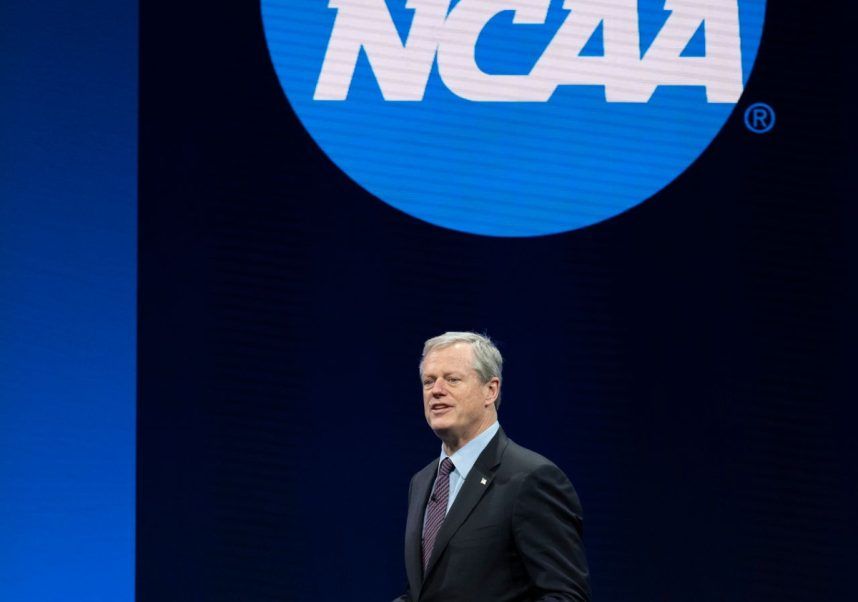 Baker became president of the NCAA effective March 1. The former Massachusetts governor signed the state's sports betting bill into law in August 2022.
Baker, a longtime advocate of the commonwealth joining the more than 30 other states that have legalized gambling on sports since the US Supreme Court gave such rights back to the states in May 2018, believes legal sports betting presents a revenue opportunity for the NCAA.
We have a major opportunity to get into the sports betting space," Baker said. "Anybody who has a phone can bet from anywhere they want to, and two-thirds to almost three-quarters of all people between the ages of 18 and 22 bet on sports."
Most states require bettors to be 21 and older, though many offshore sportsbooks allow people as young as 18 to wager. New Hampshire, New Mexico, Rhode Island, and Washington, DC are the only legal sports betting markets in the US that permit people aged 18 to 21 to bet.
Baker's comments came at a conference at the University of Arizona titled, "The Future of College Sports."
Sports Betting Goldmine
About $93.8 billion was wagered legally on sports in the US last year. Oddsmakers kept more than $7.6 billion of the bets on an 8% hold. States where such gambling is allowed benefited with more than $1.5 billion in subsequent tax revenue.
Baker believes the continued expansion of sports betting and the heightened fan engagement such gambling is creating for its sports and championships gives the NCAA an upper hand in negotiating future media rights. He added that the NCAA must continue to work with state regulators, players, and schools to assure that sports betting doesn't harm college athletes.
"There are lots of kids on campuses betting on college sports and betting on the teams on their campus," Baker said. "This puts student-athletes in a very difficult position. [We] need to create a program that we hope we're going to get everybody to endorse around helping them develop the tools and techniques athletes need to deal with this stuff," Baker explained.
NIL Breakdown
While Baker hopes to better capitalize off sports betting, the NCAA boss is also supportive of players being paid through the association's name, image, and likeness (NIL) program. But Baker says the NCAA failed in creating a framework of rules and regulations for the NIL incentive.
"I think it was a big mistake for the NCAA not to do a framework for NIL when they had the opportunity," Baker said in comments seemingly directed at his predecessor, Mark Emmert.
I think there were too many people in college sports who thought no rules would work really well for them. What everybody has discovered is no rules, no transparency, no accountability, and no framework doesn't work well for anybody," Baker declared.
Baker believes Congress could be best suited to bring a solution to the NIL environment and create a national-level playing field for student-athlete pay.
Source: casino.org