Posted on: February 24, 2023, 11:59h.
Last updated on: February 24, 2023, 12:10h.
The New York Knicks begin their pursuit of the Brooklyn Nets Friday night in Washington. We say "begin" rather than "resume" because catching Brooklyn wasn't even in the discussion a couple of weeks ago. The trade deadline changed all that, and this now appears to be an inevitability rather than a possibility.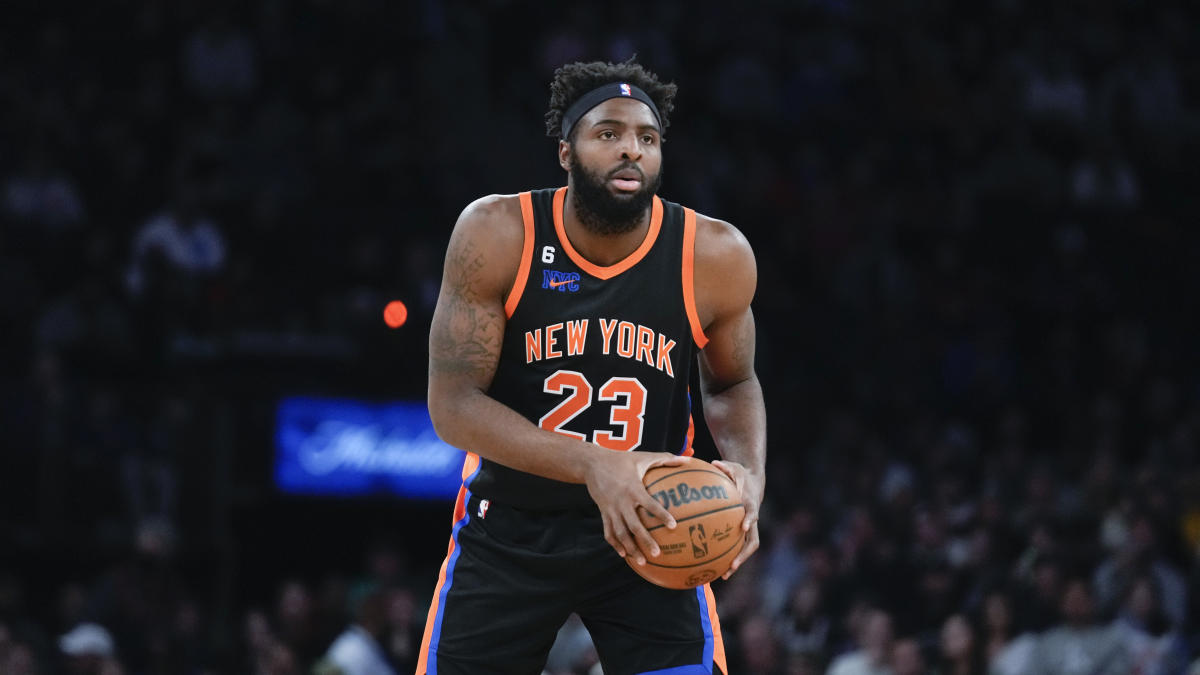 Knicks Goals Between Now and Playoffs
Three games down to the Nets in the loss column, the Knicks play the Washington Wizards tonight as one-point underdogs, while the Nets are in Chicago getting two points from the Bulls. But while the Nets are undergoing a rebuild following the trades of forward Kevin Durant and guard Kyrie Irving, the Knicks are making a push behind all-star forward Julius Randle, snubbed non-All-Star guard Jalen Brunson, and trade deadline acquisition and forward/guard Josh Hart.
Josh Hart wants long-term marriage with Knicks: 'Perfect situation' https://t.co/3JKiKNQf0o pic.twitter.com/zryXosF0B2

— New York Post Sports (@nypostsports) February 23, 2023
Catching the Boston Celtics in the Atlantic Division ain't happening, which is why the Knicks are +49000 in the Atlantic Division market. But finishing in the top four and opening the playoffs at Madison Square Garden? That's not out of the question. But the Knicks' first job is getting past the Nets before setting their sights on the fourth-place Cleveland Cavaliers.
The Knicks went into the break with three straight wins and victories in five of six. That was nine days ago. Hart went to Cabo in Mexico for a wedding, Randle went to Utah for the All-Star game, and everyone else got to go wherever they chose.
"We were in a groove," Hart told reporters Thursday. "It was a little bit of a bummer."
They are dogs tonight in Washington because the Wizards have gone 10-4 in their last 14 games, and because nobody believes much in the Knicks. This is why their championship odds — 50 years after their last championship — are as follows at the nine licensed New York sportsbooks (What does BetRivers know that the others don't?)
DraftKings: +20000
FanDuel: +16000
BetMGM: +12000
Caesars: +15000
BetRivers: +6600
WynnBet: +15000
ResortsWorld: +15000
PointsBet: +15000
BallyBet: Not available
https://twitter.com/nyknicks/status/1628484777128108032
Wisest Knicks Wager
That is where things get tricky because, unless you believe these guys are title-worthy, you have to pick your spots with things like same-game parlays. Or go with what looks like an easy money lock of the Knicks to make the playoffs, which is -400 at FanDuel (The Nets missing the playoffs is +680 at FanDuel and +800 at DraftKings, which is worth considering because they are just 2 1/2 games ahead of seventh-place Miami). It should be noted that making the play-in and making the playoffs are not the same thing. A team has to be in the final eight for a make/miss playoffs wager to pay.
The Knicks have a brutal March schedule, playing nine of 15 on the road, including a four-game Western trip to Sacramento, Los Angeles, and Portland. They have two games left against Boston and three more games against the Miami Heat. They'll also play nine of their final 22 games against teams from the West, including two against the New Orleans Pelicans.
https://twitter.com/nyknicks/status/1628394182418247683
Tonight, there are two opt-ins available at DraftKings for a 100% profit boost on a same-game parlay, and a free wager if a same-game parlay loses. The option we liked best was Knicks moneyline, Brunson 30+ points, and Randle 20+ points at +400. But the one we put our $10 wager on was a Brunson special: 30-plus points, at least five rebounds and assists, two steals, and one block at +7500. (Gotta remember to check the opt-in boxes on DK). The profit boost brought the potential payout to $985.
We couldn't find a way to parlay Brooklyn missing the playoffs with anything at Draft Kings or FanDuel, and PointsBet only had a line on "Yes" (-1000) for the Knicks making the playoffs. This is yet another example of parlay restrictions being too tight and too arbitrary in New York, something we resolve to get fixed through our connections with the State Gaming Commission.
RELATED: NY Assemblyman J. Gary Pretlow Shares 2023 Vision for State Sports Betting
What bears watching most closely is whether the Knicks can seize the momentum they had coming into the break.
"There's another level we can get to," Randle said. "We need to keep building on our consistent play."
Said Hart: "I'm not going to say, 'We're going to be the 2 seed,' or anything like that, but we're a team that can make a run, a team that other teams won't want to play."
"I always think," coach Tom Thibodeau said, "that we can get better."
What "better" translates to in the postseason remains to be seen, but a playoff berth seems assured for the Knicks. Not so for the Nets, and if you can stomach a straight bet at DraftKings without being able to parlay it, +800 on Brooklyn missing the NBA's version of the Big Dance doesn't seem like the worst wager in the history of wagers, no matter how much we personally admire Spencer Dinwiddie.
https://twitter.com/BrooklynNets/status/1628844643604643840
Source: casino.org