Posted on: February 16, 2023, 11:34h.
Last updated on: February 16, 2023, 11:52h.
There's more good news for the New York Knicks after they went into the All-Star break with a 21-point win in Atlanta. They've moved into sixth place in the East, outside of the play-in bracket.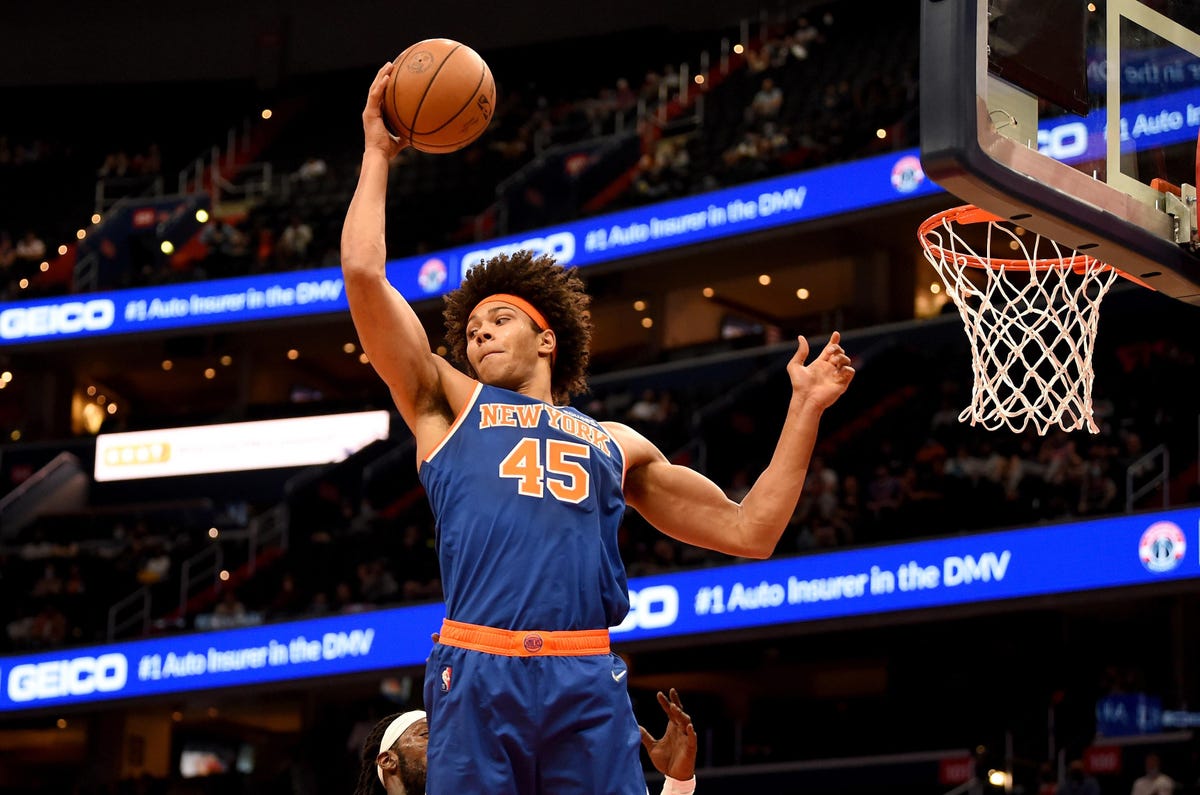 Meanwhile, center Jericho Sims, the 58th pick of the 2021 draft, has been listed as the +250 favorite to win the Slam Dunk Contest at All-Star Weekend.
The bad news for New Yorkers? This wager is only available across state lines because it is being judged by humans (famous ones), and anything voted on by humans is illegal under New York's flawed sports gambling laws.
So, yes, this is a cross-border trip for anyone who wants to lay money on the only Knicks representative who will be in attendance at Vivent Arena in Salt Lake City (much to the dismay of Jalen Brunson). And yes, the kid can dunk. He can get his entire head above the rim. And Knicks have won this thing before.
Can't wait for the dunk contest pic.twitter.com/NO8bBQp706

— Jericho Sims Fan (@JerichoSimsFan_) February 15, 2023
For the First Time, A G-League Player is Competing
There will be some interesting competition in the dunk contest, including a guy from the G-League, Mac McClung, who is guaranteed to be trending heavily on Twitter on Saturday night. He plays for the Delaware Blue Coats, has spent a grand total of 25 minutes playing in NBA games, and turned down a lucrative offer from Fenerbahçe in Turkey to pursue his NBA dream coming out of Texas Tech.
The fact that he's a white guy will be a topic of discussion, too, because outside of Brent Barry and Rex Chapman, there haven't been a lot of white guys in the dunk contest. Back in 1996, when Barry of the Clippers won the contest, the Associated Press had some fun with the topic by channeling Woody Harrelson's character from the 1992 movie "White Men Can't Jump" about two streetball hustlers, and reporting in its lead paragraph "Turns out white men CAN jump."
But light-hearted racial references were far more common in the 1990s than they are today, so this is going to be a touchy subject that, nonetheless, will be a topic of national discussion. And the fact of the matter is that McClung can indeed jump … and dunk. This one is rather sick, having happened in an actual game.
Evidently white men CAN jump (sometimes). #Basketball #Dunk #MacMcClung pic.twitter.com/YZnKihysHF

— Lloyd Legalist (@LloydLegalist) December 2, 2021
What We Should Know About Matt McClung
McClung is the +350 second choice at Unibet, which is available in New Jersey, Pennsylvania, and four other states, none of which border New York. At BarstoolSports, also available in New Jersey and Pennsylvania, Sims' odds are just +150, Kenyon Martin Jr. of the Houston Rockets is +200, McClung is +250, and Trey Murphy III of the New Orleans Pelicans is +275.
So shopping around is important if you want to bet this one. There are nearly two dozen legal sportsbooks in New Jersey, and the one book that operates in Connecticut, but not New York, Play Sugarhouse, hasn't yet listed All-Star odds.
McClung has 821K Instagram followers and, if you sort your YouTube search results for Mac McClung by view count, you'll find 22 different videos with at least one million views. The second-most popular video has been watched 3.5 million times on the "Ballislife" channel and features the blonde-haired McClung at their All-American dunk contest in 2018.
Allowing McClung into the contest is a leap of faith for the NBA, which has tried for years to drum up interest in the dunk contest with a variety of alterations. The idea of allowing a G-League player has been floated before, but was rejected because the belief in the league office was that NBA players losing to a minor league player would look bad for the league.
But it's happening this year, and it won't be a surprise if, in future years, competitors are allowed in from the NBA-affiliated Basketball Africa League, which is set to kick off its third season. But for now, we're looking at a four-man field, with the contest beginning late Saturday night after the skills competition and the 3-point contest (which we handicapped Wednesday) are completed.
The judges are Lisa Leslie, Harold Miner, Dominique Wilkins, Jamal Crawford, and this guy, who did great things in Utah once upon a time, but has been off the grid for 19 years:
Presenting 2023 #ATTSlamDunk Judge.. Karl Malone! #StateFarmSaturday: Feb. 18, TNT pic.twitter.com/PzGT9003CC

— #NBAAllStar (@NBAAllStar) February 15, 2023
Should We Expect Anti-McClung Bias?
These contests are very much at the mercy of the judges, and one "8" when everyone else is giving a "9" or a "10" can alter the field prior to the final dunk-off, and even during it. To be truthful, the best wager on this one is over who must buy the next round of drinks as you watch while the clock is ticking toward midnight. But we will go a step further.
Obi Toppin of the Knicks won the contest last year, marking the fifth time a Knick has won (Nate Robinson did it three times, and Kenny Walker won in 1989). Nobody from the Rockets, Pelicans, or 76ers has ever won … and that may be why Sims is favored. Oddsmakers have to rely on something when setting these lines, and past history seems to be in play here.
But remember, flair and showmanship are the qualities that get the crowd riled up and influence the numbers the judges post. If the crowd loves McClung, he'll win if the judges don't show an anti-G-League bias. Why? Because his dunks are out of this world. And if he wins, this won't be the last we'll hear about a guy who could conceivably be playing playoff ball for the Sixers this spring.
https://twitter.com/NBA/status/1625995872378195970
Source: casino.org