Posted on: June 1, 2023, 08:42h.
Last updated on: June 1, 2023, 02:19h.
North Carolina appears likely to join the more than 30 other states that have legalized commercial sports betting after the state Senate approved legislation that seeks to allow online wagering and in-person betting at professional sports venues.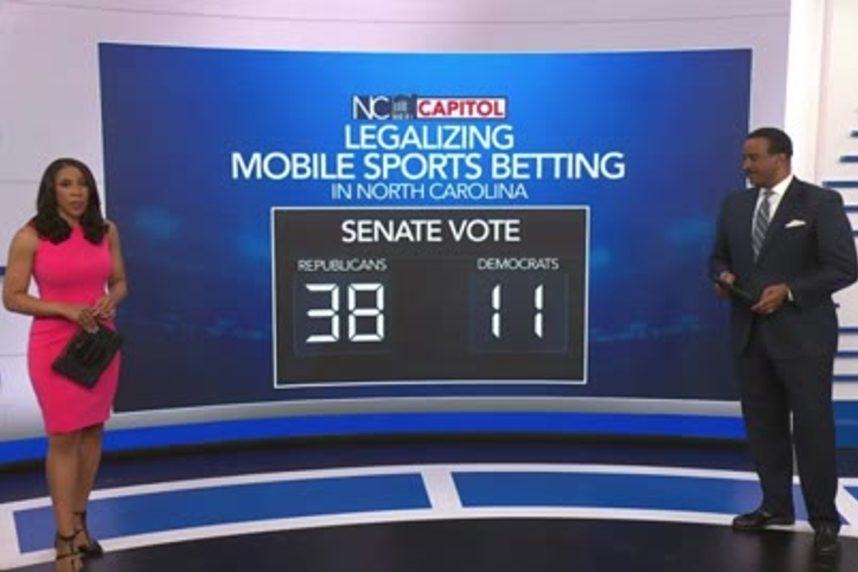 North Carolina is already home to legal sports betting, though such gambling is limited to the state's three brick-and-mortar tribal casinos.
North Carolina doesn't have any commercial casinos, but state lawmakers want to keep the sports betting revenue that is flowing into neighboring states where online wagering is permitted inside the Tar Heel State. Legal online sportsbooks operate in Tennessee and Virginia, two of North Carolina's border states.
House Bill 347 seeks to allow as many as 12 online sportsbook licenses in North Carolina.
In addition, the statute proposes allowing the state's eight pro sports venues to incorporate retail sportsbooks into their facilities. Those sports venues are PNC Arena in Raleigh, WakeMed Soccer Park in Cary, Bank of America Stadium and Spectrum Center in Charlotte, Charlotte Motor Speedway, North Wilkesboro Speedway, Sedgefield Country Club in Greensboro, and Quail Hollow Country Club in Charlotte.
Bill Back to House
HB 347 underwent several legislative changes while making its rounds in the Senate chambers. Senators adjusted the statute's proposed tax rate on sports betting revenue from 14% to 18%, removed the House's suggestion that sportsbooks be permitted to deduct their promotional incentives given to players against their net income, and included the provision that allows in-person bettors to use cash and not have their betting activity tracked.
The North Carolina sports betting bill now returns to the House, where chamber lawmakers must sign off on the Senate changes. House approval is expected, as the bill passed in late March with considerable support. The House vote on HB 347 was 64-45.
If the amended bill gains favor in the House, the legislation would move to Gov. Roy Cooper's (D) office, where he says he'll sign the statute into law.
Opponents, Supporters Squabble
North Carolina is typically included in the so-called "Bible Belt," the region of the Southern United States that tends to favor socially conservative principles. Gambling doesn't necessarily align with those ideals.
During Senate considerations of HB 347, some lawmakers voiced their concerns that North Carolina is losing its morals and embarking down a slippery slope.
I'm afraid in a decade we will regret removing the guardrails that we are proposing to do," said Rep. Julie Mayfield (D-Buncombe).
But Senate President Pro Tempore Phil Berger (R-Rockingham) said the state must also balance individual freedoms and government interference.
We also have the whole question of whether or not we have a free society where people can make their own minds up as to what they want to do," Berger said. "I think what you saw today is that more people fell on that side of the equation then on the side that government needs to micromanage people's lives."
Should the House approve the Senate changes and Cooper sign HB 347, state officials suggest online wagering could begin in early 2024. The North Carolina Lottery Commission will oversee the expanded gambling and be tasked with fielding, reviewing applications, and issuing licenses.
Source: casino.org