Posted on: June 23, 2023, 08:59h.
Last updated on: June 23, 2023, 12:18h.
Larry Silverstein, 92, whose Silverstein Properties assisted the Big Apple in redeveloping Lower Manhattan and the World Trade Center following the 9/11 attacks, wants his next bet in NYC to be a casino.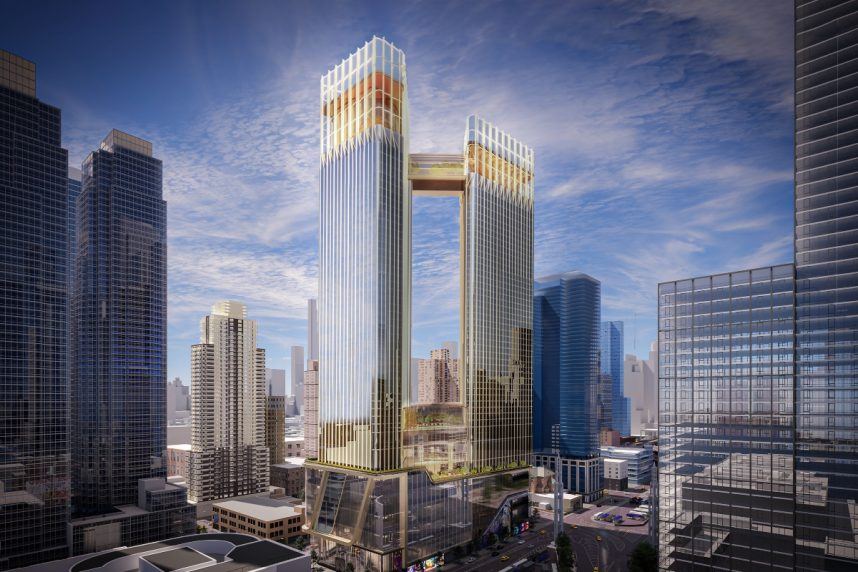 In 2013, New York lawmakers and then-Gov. Andrew Cuomo (D) authorized up to seven commercial brick-and-mortar casinos in the Empire State. The gaming act included four casinos allocated for upstate, and the other three for the downstate area.
The 2013 law provided a 10-year moratorium on the state issuing the downstate licenses to allow the upstate properties to open without downstate competition. The provision was designed to allow the upstate casinos to establish their customer bases and attract downstate residents north.
The moratorium is over and state officials are readying the application process for the three coveted downstate licenses. Already there's a crowded bidding pool. Silverstein joins many well-known gaming developers and operators, including MGM Resorts, Las Vegas Sands, Genting, Caesars Entertainment, Wynn Resorts, Mohegan, Hard Rock, and Bally's.
Silverstein's Pitch
In a statement provided to Casino.org on Friday morning, officials with Silverstein Properties say the firm has an ideal, 2.1-acre site of undeveloped land located at 41st St. and 11th Avenue on Manhattan's West Side. The property is just across 11th Avenue from the Javits Center, the city's primary convention and exhibition facility, and is fully owned by Silverstein Properties.
Silverstein is proposing a casino and hotel resort complex called the Avenir. The property would include two 46-story towers connected by a sky bridge, with 1,000 luxury hotel rooms. The casino would occupy eight stories with 600,000 square feet of gaming, which would make it one of the largest casino spaces in the world.
The top floor of one of the towers would be a 1,000-seat performance hall. Silverstein said the development would additionally include about 100 affordable housing units located in or around the project site that features a mix of unit types and sizes.
Unlike many of the other casino pitches for downstate, Silverstein officials say their bid would not displace any residents nor require public infrastructure investments. Silverstein would be a newcomer to gaming, which is why the company has brought on the parent company of Parx Casino, Greenwood Gaming and Entertainment, to operate the casino should the project be greenlit.
Parx is located just north of Philadelphia and generated more gross gaming revenue last year than any other casino in Pennsylvania.
Silverstein seemed to suggest his enthusiasm for a casino license has more to do with benefiting New York than himself or his company.
Our city and state face a confluence of historic challenges right now. These include a housing crisis, public safety challenges, budget shortfalls, and a commercial real estate market in transition. We need to work with state and local leaders to do everything we can to make New York the best place to live, work, and visit," Silverstein said.
"We've done it before, and I am confident we can do it again. I've always said you should never bet against New York. This city and state will come back bigger and better than ever before," Silverstein added.
West Manhattan Bids
Silverstein's casino bid infringes on another presentation being presented by fellow billionaire Stephen Ross. While Silverstein didn't suggest a price tag for his possible casino investment, Ross' Related Companies has stated it would spend as much as $10 billion to bring an integrated casino resort to Hudson Yards, which is just south of the Javits Center.
Ross, who owns Hudson Yards, a real estate development between the Chelsea and Hell's Kitchen neighborhoods, has teamed with Wynn Resorts for the initiative.
Source: casino.org