Posted on: May 29, 2023, 10:20h.
Last updated on: May 29, 2023, 10:20h.
Seattle police say a casino shooter who opened fire inside a card room remains at large nearly 48 hours after the assailant fired at and hit at least three people.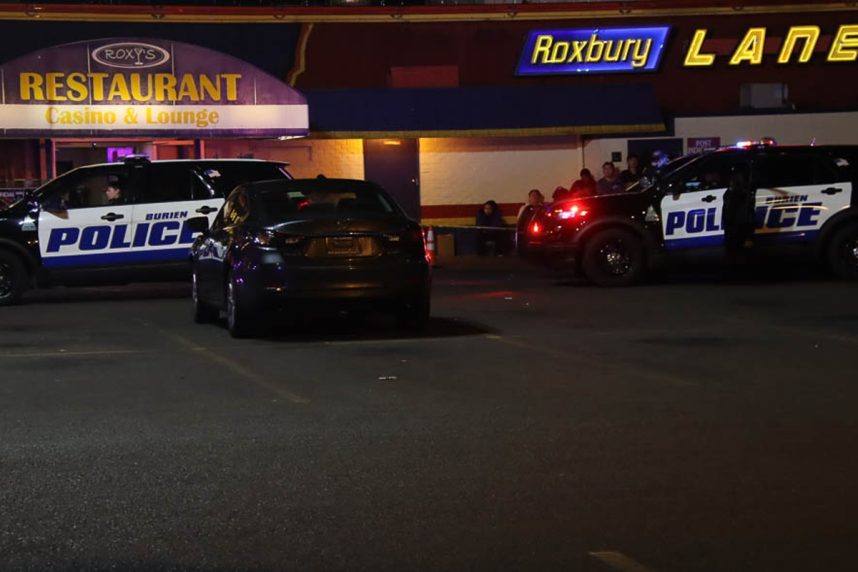 King County Sheriff's deputies report that an unidentified assailant entered the Roxbury Lanes and Casino in Seattle located at 2823 SW Roxbury Street around 11 pm local time on Saturday night, May 27. The shooter shot two men and a woman. Their conditions are unknown, but a commenter on the news site West Seattle Blog said one person is dead, one is in critical condition, and the third is expected to survive.
What we do know at this point is that around 2248 hours an unknown person came into Roxbury Lanes Casino located at the 2800 block of SW Roxbury Street in Unincorporated King County and began shooting," said King County Sgt. Eric White. "As many as three victims were reported to have sustained injuries and were transported to Harborview Hospital for their injuries."
White said detectives with the King County Major Crimes Unit are on the case and the matter remains an active investigation.
Shooting investigation at Roxbury Lanes Casino at the 2800 Block of SW Roxbury Street. KCSO Deputies on scene. Major Crimes Detectives responding.

— King County Sheriff's Office PIO (@kingcosoPIO) May 28, 2023
Details Scant
Roxbury Lanes is an entertainment facility featuring bowling, dining, and gambling. The casino is a card room that is allowed to operate table and poker games but not slot machines or sports betting.
Roxbury Lanes and Casino closed in the aftermath of the shooting.
"Due to a heartbreaking tragedy, we're closed today, Sunday, May 28th," a post to the casino's Facebook page read. Attempts to reach the casino this morning have been unsuccessful.
Law enforcement has not provided additional updates since issuing the brief statement yesterday morning. But additional reports have surfaced that the shooting did result in at least one death.
"One male shot in the head passed away on scene. The other two are in critical condition. Both are employees [of the casino]," read a Twitter response to the King County Sheriff's Office's Sunday morning tweet regarding the shooting. Another Twitter user said her "friend was killed."
Washington is not home to any commercial casinos with slots and table games, but the Washington Gambling Commission is permitted to issue certain for-profit gaming licenses. Available licenses include punchboard/pull-tab permits, house-banked card room licenses, and amusement concessions.
Roxbury Lanes, owned by local businessman Jerome Howe, holds punchboard/pull-tab, card room, and amusements licenses.
First-Hand Account
On the West Seattle Blog, a commenter by the name "TJ" claimed to have witnessed the Seattle casino shooting firsthand. TJ said a "guy came in" and fired several rounds at certain casino workers, including a table game dealer and a security guard.
TJ says the dealer was shot in the head and was given CPR after the gunman ran out the door. TJ says he participated in trying to care for the victim until first responders arrived, which "seemed like 10 to 15 minutes."
"We did everything we could and never gave up, but unfortunately it wasn't enough," TJ wrote on the website. "I only hope is that this poor man's family knows that their loved one's last memory was a couple of strangers trying their best to help him."
Source: casino.org