Posted on: February 13, 2023, 09:09h.
Last updated on: February 13, 2023, 09:09h.
Super Bowl LVII between the Kansas City Chiefs and Philadelphia Eagles was one for the ages, a thrilling back-and-forth between the NFL's top two teams.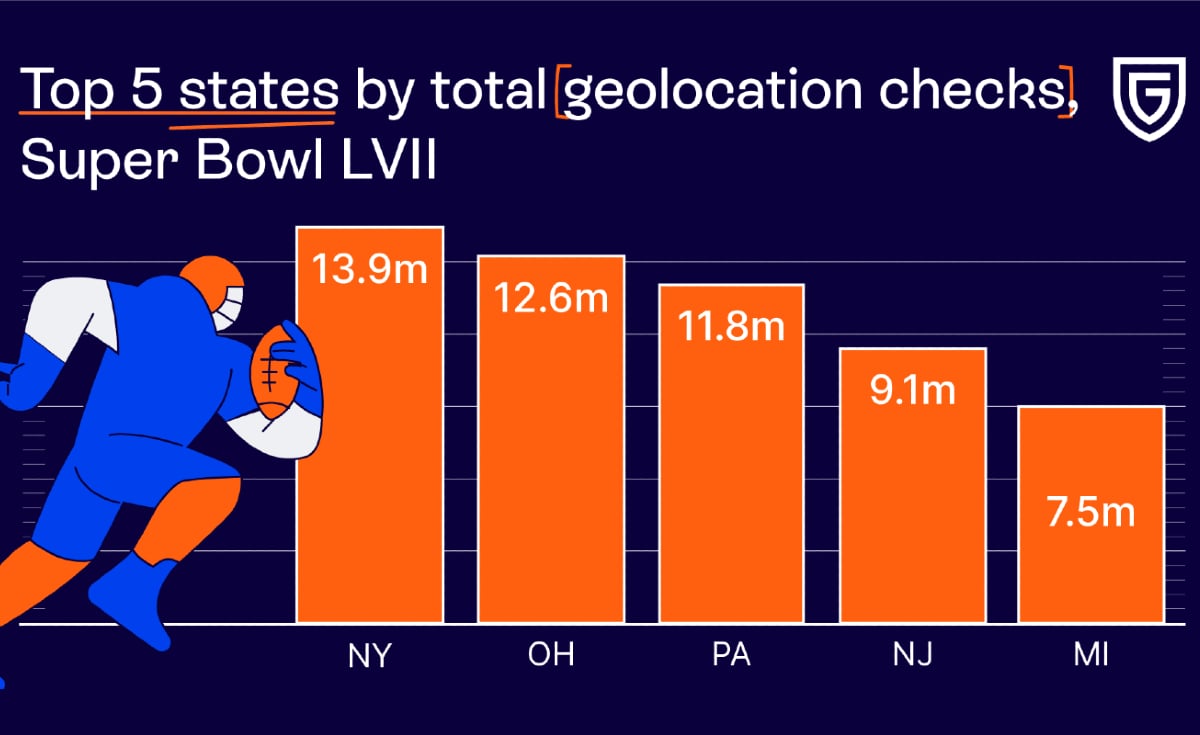 A fourth-quarter holding call on Eagles cornerback James Bradberry on Chiefs wideout JuJu Smith-Schuster turned out to be the difference maker, as the penalty set up Kansas City kicker Harrison Butker for a game-winning 27-yard field goal. The Chiefs' 38-35 win covered the spread — Kansas City was a 1.5-point underdog — and easily went over the game's 51.5-point total.
Super Bowl LVII was a doozy and everything the NFL hoped for. The refs largely avoided any overly controversial calls, and the Chiefs and Eagles provided nonstop excitement from whistle to whistle.
Sportsbooks said the electrifying finale to the NFL season resulted in record sports betting activity. GeoComply, the leading cybersecurity and fraud prevention third-party servicer for legal sportsbooks in the US, said it facilitated more than 100 million geolocation checks during the big game, an all-time high for a Super Bowl weekend.
Geolocation checks pinpoint precisely where a bettor is trying to wager from. The check occurs when a user registers or logs in to their online sportsbook and attempts to place a bet.
Record Sports Bets
GeoComply provides geolocation checks for most leading online sportsbook platforms in the US. Notable clients include DraftKings, BetMGM, and FanDuel.
The company said it conducted over 100 million geolocation checks on Saturday and Sunday, a 25% increase from last year's Super Bowl weekend. GeoComply added that 7.4 million new online sportsbook accounts were successfully registered during the 48-hour period.
New York topped the list of states with 13.9 million geolocation checks. Ohio was next at 12.6 million checks and Pennsylvania was third at 11.8 million checks. Kansas is not home to legal sports betting.
Super Bowl LVII was a record-breaking event. GeoComply data reveals that Americans' interest in legally betting on the Super Bowl has never been higher," said GeoComply Cofounder and CEO Anna Sainsbury.
For the first time ever, the Super Bowl was played in a state where sports betting is legal. It also marked the first big game to be played adjacent to a regulated sportsbook.
The BetMGM Sportsbook at State Farm Stadium in Glendale, Az., is just outside the stadium on the complex's Great Lawn. GeoComply said it performed more than 100,000 geolocation checks from over 8,000 sportsbook accounts in and around State Farm Stadium during the Super Bowl weekend.
"Many fans embraced their newfound ability to bet while watching the game in person," Sainsbury added.
Fraud Intercepts
Along with locating sports bettors to assure they are where they claim they are, GeoComply also helps regulated sportsbooks protect their online assets and data. GeoComply said the Super Bowl is one of the busiest times of the year for online fraudsters.
The company said it spotted and blocked over 140,000 fraud attempts during the weekend.
"GeoComply protected consumers and sportsbooks from fraud rings, account takeovers, ID theft, and other financial fraud," the company release stated.
Source: casino.org