Posted on: June 15, 2023, 03:00h.
Last updated on: June 15, 2023, 03:24h.
The Guardian Media Group has announced a global ban on gambling advertising, forgoing multiple millions in revenue.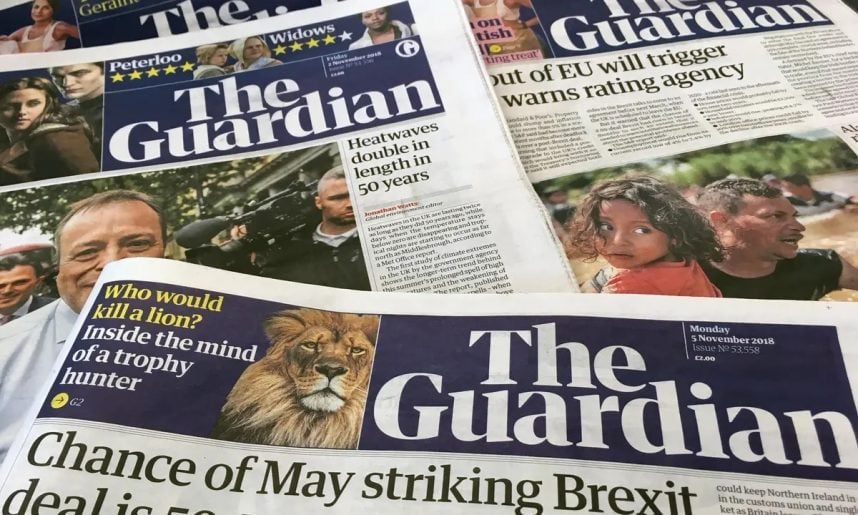 The move is designed to bring the left-wing UK-based media group's revenue streams into alignment with its socially progressive editorial and journalistic values. The group has already banned advertising from companies involved in the fossil fuel industry.
The Guardian has been at the forefront of the media backlash against the gambling industry in the UK, which has experienced 18 years of highly liberalized online gambling laws.
"Guardian journalists have reported on the devastating impact of the gambling industry in the UK and Australia, helping to shift the dial and ensure the issue remains high on the public agenda," wrote Anna Bateson, chief executive of the Guardian Media Group, in an editorial in The Guardian Thursday.
No Billionaire Owner
Bateson added that the group was able to make the decision because of its independent ownership structure. It has no shareholders and no billionaire owner. Instead, it's owned by the Scott Trust Ltd., which exists purely to secure the financial and editorial independence of The Guardian in perpetuity.
Ultimately, we believe that our primary obligation is to do the right thing for our readers, which is why we've decided that there are other ways to generate revenue," she said. "The Guardian is committed to responsible advertising practices that will have a positive impact on society."
The ban includes all forms of gambling advertising across all of the group's online and print outlets, such as The Guardian, Observer, and Guardian Weekly. The only exception will be lottery products that offer "non-instantaneous prizes" because these "could have social benefits through raising money for good causes."
Gambling and the Media
The decision stands in marked contrast to many other UK news organizations whose titles have their own bingo sites, such as Sun Bingo and Mirror Bingo. Likewise, in the US, Fox Sports has its own branded sportsbook, FOX Bets, in which it owns a 4.99% stake. Meanwhile, regional casino giant Penn Entertainment owns Barstool Sports.
Bateson said that The Guardian understands and respects that millions of its readers, as well as its staff, are passionate sports fans who like to place bets.
"It is a matter of personal freedom, and we have no issue with that," she said. "Our concern lies with the pervasive nature of retargeted digital advertisements that trap a portion of sports fans in an addictive cycle."
Source: casino.org