Posted on: April 2, 2023, 10:31h.
Last updated on: April 2, 2023, 10:31h.
Two teams remain in the hunt for the March Madness men's college basketball championship, and #4 UConn squares off against #5 San Diego State in the final on Monday evening in Houston, Texas. UConn is currently a 7.5-point betting favorite over San Diego State.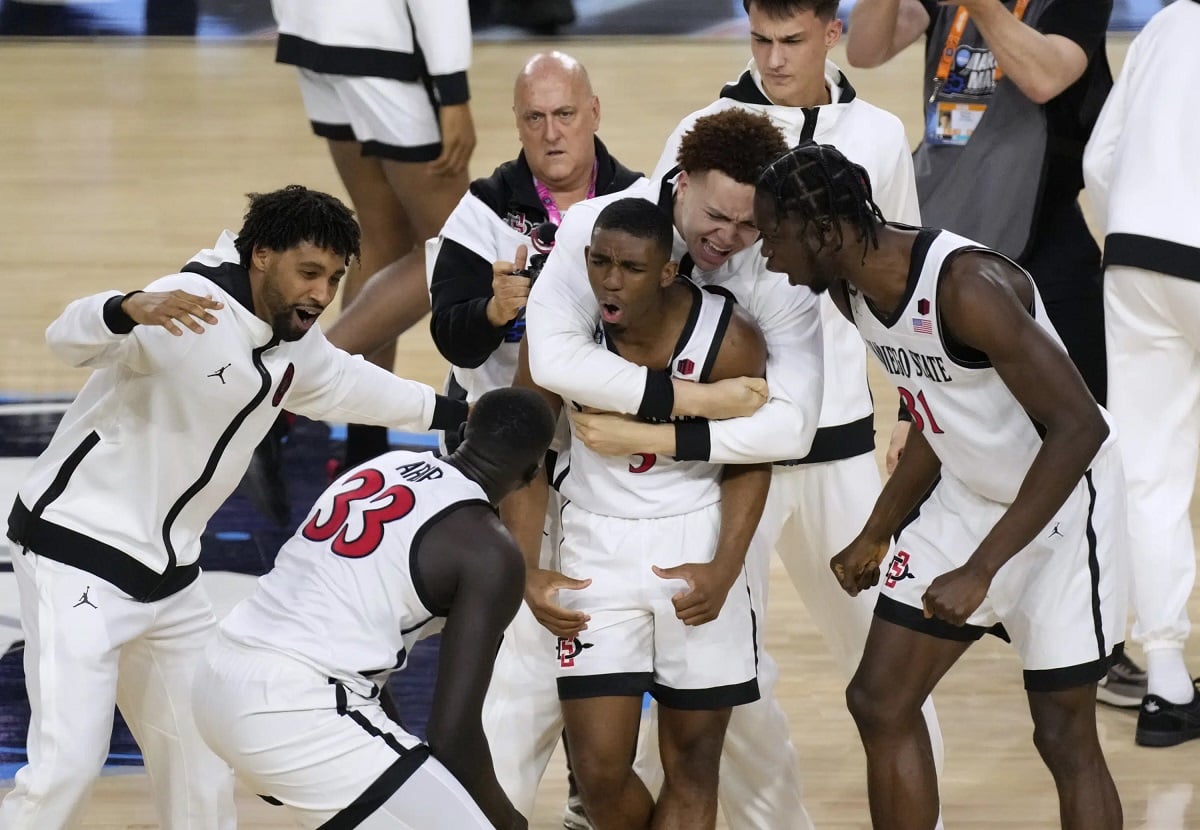 When oddsmakers in Las Vegas opened the championship line on Saturday evening, UConn was installed as -6.5 favorite according to MGM. Early money backed UConn, and the line moved a full point as of Sunday morning.
For underdog bettors, San Diego State is now getting +7.5 points. You can back them on the moneyline at +290 on DraftKings. UConn is currently -350 as the moneyline favorite.
The points total in the championship game is currently 132 over/under. The total initially opened at 130.5 o/u.
UConn and San Diego State tipoffs off at 8:20pm ET at NRG Stadium in Houston.
According to ESPN, only 2.4% out of two million entries in their Men's Tournament Challenge selected UConn to win the championship. Only 0.3% of all March Madness brackets at ESPN picked San Diego State to win the title.
San Diego State Advances on Buzzer Beater
San Diego State was the only team in the Final Four who were ranked according to the preseason AP Top 25 College Basketball Poll. The Aztecs began the season at #19, and they entered March Madness at #18.
San Diego State defeated Florida Atlantic, 72-71, on a buzzer beater to advance to the championship game. Florida Atlantic blew a 12-point lead in the second half, and San Diego State won their Final Four battle thanks to a 17-foot jumper at the buzzer from Lamon Butler.
Butler, a junior guard, averaged only 8.7 points per game for San Diego State this season. He had scored only seven points against Florida Atlantic prior to his game-winning shot.
I always dreamed of this moment," Butler said. "I'm just happy it was able to come to fruition."
San Diego State's road to the Final Four included victories against #12 Charleston, #13 Furman, #1 Alabama, and #6 Creighton. San Diego State squeaked by Creighton in a one-point victory in the Elite Eight to advance to the Final Four.
Florida Atlantic embarked on a Cinderella run in this year's March Madness as the #9 seed. The little-known Owls defeated #8 Memphis, #16 FDU, #4 Tennessee, and #3 Kansas State to earn their first-ever trip to the Final Four.
Before the tournament began, San Diego State was +6000 odds to win March Madness according to DraftKings' futures board. Their title odds improved to +380 at the start of the Final Four.
San Diego State struggled to cover the point spread this season with a 19-16-2 ATS record, but they went 5-1 ATS during March Madness.
UConn Blows Out Miami
In the final AP Poll at the end of the regular season, UConn was ranked #10 in the nation, and Miami was ranked #16. Neither team earned a preseason ranking.
UConn obliterated everyone in their path to the championship game, and they won four March Madness games by at least 23 points. The Huskies became only the sixth team in March Madness history to win their first five tournament games by a double-digit margin. They blew out #13 Iona, #5 St. Mary's, #8 Arkansas, and #3 Gonzaga to lock up a spot in the Final Four.
Miami fell behind early, but tied the game at 19-19 midway through the first half. Propelled by a 18-5 run, UConn headed into halftime with a 13-point lead. Miami trailed by 20-plus in the second half, but their last-gasp rallies fell short. UConn held on to win 72-59.
We're able to kind of body blow our opponent," said UConn head coach Danny Hurley.
"We feel like we're the best defense in the nation," added senior guard Tristen Newton.
UConn forward Adama Sanogo led all scorers with 21 points in the victory. The junior, originally from Mali, also hauled down ten rebounds and blocked two shots.
Miami was designated with a #5 seed in March Madness. They defeated #12 Drake, #4 Indiana, #1 Houston, and #2 Texas to earn a spot in the Final Four.
When the tournament began, UConn was +1600 odds to win March Madness. At the start of the Final Four, UConn saw their championship odds improve to -125.
UConn is the second-best betting team in the country this season with a 26-11-1 ATS record. They covered all five March Madness games, and they're 10-1 ATS in their previous 11 games.
Source: casino.org