Posted on: July 23, 2023, 12:44h.
Last updated on: July 23, 2023, 01:09h.
Fire officials are continuing to investigate Saturday afternoon's rooftop fire at the Fontainebleau Hotel on the Las Vegas Strip. A plume of smoke could be seen for miles and 93 firefighters responded.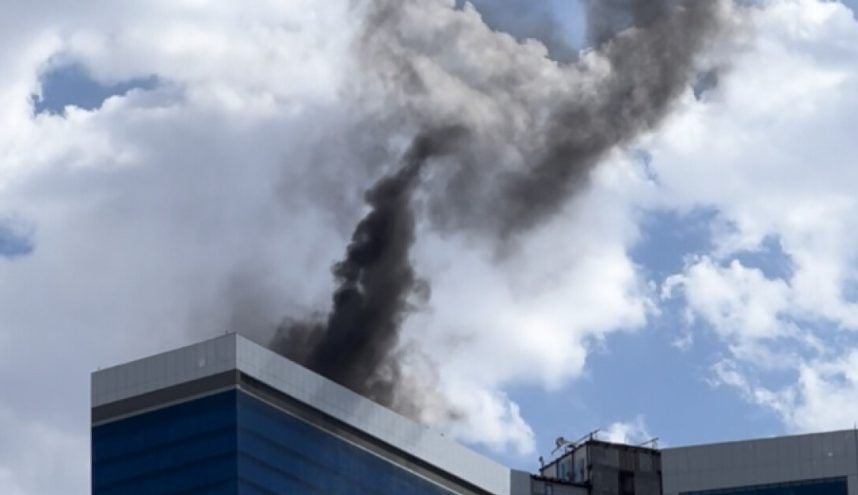 It appears the fire ignited roofing materials and debris on top of the towering 67-story blue structure, according to Las Vegas TV station KTNV.
Clark County Fire Department and Las Vegas Fire and Rescue were first alerted about the fire at about 3:41 p.m.
Initially responding firefighters got to the hotel about six minutes later. They were able to take elevators to the roof.
They quickly doused the fire, and it was contained to the roof. They also searched the roof and building to ensure no workers or construction crews were at risk.
The smoky blaze was extinguished at 4:19 p.m. Fire pumps at the building automatically activated.
No injuries were reported.
As a precaution, firefighters drank fluids in the oppressive heat to remain hydrated. Firefighters also took rotational breaks from fighting the blaze. Las Vegas temperatures reached about 114°F during the fire.
In a statement released on Saturday, the Fontainebleau Hotel said the incident was a "minor fire" which was "quickly contained."
The hotel added it is cooperating with local officials as they investigate the cause of the fire.
As safety and security are our highest priorities, we are working closely with the investigators," the hotel said in the statement.
Clark County Deputy Fire Chief Billy Samuels did not release a damage estimate for the fire.
Many Crews Respond
In total, of the 93 firefighters, crews at the site included 12 fire engines, four ladder trucks, seven rescue units, four battalion chiefs, two heavy rescue units, and two air crews.
Las Vegas Metropolitan Police Department (LVMPD) officers and EMTs also responded to the property. Hotel security guards assisted emergency crews to allow them to get to the roof, according to the Las Vegas Review Journal.
LVMPD officers closed Elvis Presley Boulevard between Las Vegas Boulevard and Paradise Road to let firefighters battle the blaze.
Thank you for your inquiries and well wishes for our employees. LVFR Units are on the scene for an incident at Fountainbleu. This incident is within @ClarkCountyFD Jurisdiction. Their team is taking the lead and will provide more information as it becomes available. Stay Safe,… pic.twitter.com/eNaTgvkgGZ

— Las Vegas FireRescue (@LasVegasFD) July 22, 2023
Years of Construction
The hotel is under construction. It is scheduled to open late this year.
Construction on the Fontainebleau started in 2007. Due to an economic downturn, the project stopped in 2009.
The casino has been sold many times and has faced numerous setbacks.
The longest owner was Carl Icahn, who purchased the bankrupt project in 2010 for $151 million.
Icahn sold the unfinished resort to Steve Witkoff and the Witkoff Group for $600 million in 2017.
Witkoff sold the property to Jeff Soffer's Fontainebleau Development and Koch Real Estate Investments (KREI) in early 2021 for an undisclosed sum.
In December, KREI announced that it secured $2.2 billion to finish the Fontainebleau. The funding is bankrolled by JPMorgan Chase, SMBC, Blackstone Real Estate Debt Strategies, Goldman Sachs, Guggenheim Partners, and VICI Properties. VICI is a real estate investment trust controlled by Caesars Entertainment.
Once finished, it will feature approximately 3,700 luxury guest rooms, more than a half-million square feet of convention and event space, and dining, retail shopping, health and wellness amenities.
Source: casino.org