Posted on: June 16, 2023, 08:13h.
Last updated on: June 16, 2023, 11:26h.
Binion's Gambling Hall & Hotel in downtown Las Vegas has a brand new Million-Dollar display, signaling the return to Fremont Street of one of the city's favorite photo-ops.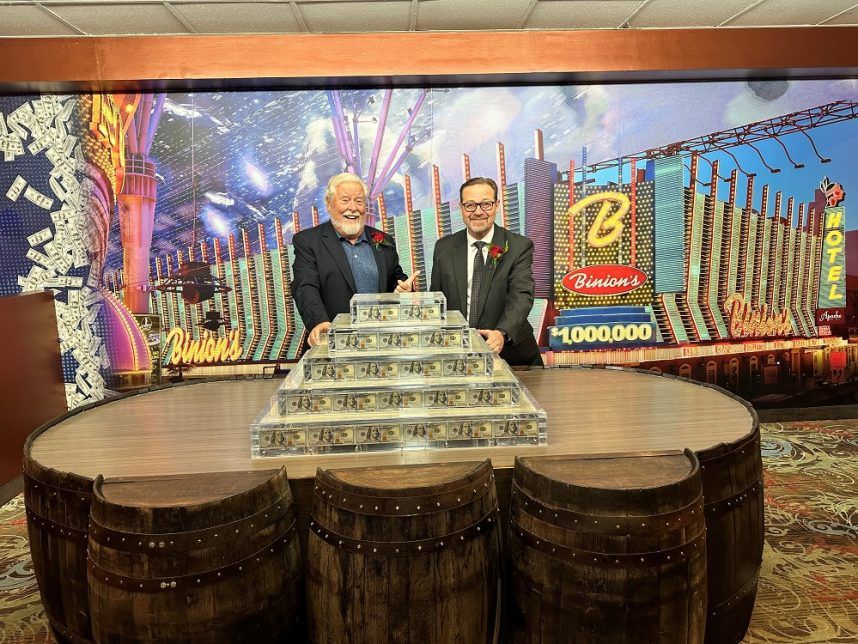 The tourist attraction, which hasn't been seen since 2020, when it was removed at the height of the pandemic, will officially open to the public from 10 a.m. on Friday, June 16.
Encased in plexiglass, the pyramid of cash contains $42K in $1 bills, $688K in $20 bills, and $270K in $100 bills, totaling exactly $1 million. It's enough to make Dr. Evil point his pinkie at his lips with relish.
Souvenir Snaps
The display weighs a total of 356 pounds: 174 pounds of US currency and 182 pounds of plexiglass, according to a Binion's news release, although no one is actually asking you to lift it.
All you need to do is come and take a free souvenir photo as you gaze longingly at more cheddar than most of us will ever see in our lifetimes.
Unlike the previous displays, where you had to wait to get your photo printed, the new process is totally automated. You can choose to receive your photo almost instantaneously to your e-mail address or to your mobile device.
The new display features a new backdrop, so it looks like you are on Fremont Street standing in front of Binion's, holding $1 million. In fact, you will be on the casino floor next to the All Access Players Club, where the 24/7 attraction is now located.
The display was the brainchild of Dallas gangster turned Las Vegas casino entrepreneur Benny Binion, who in 1951 purchased what was then the Eldorado Club and the Apache Hotel on Fremont St., transforming them into Binion's Horseshoe.
Binion's Brainchild
Binion had a flair for marketing. He quickly made a name for the Horseshoe by raising the table limits and claimed there was no bet he would not take.
Famously, he and his sons, Ted and Jack, created the World Series of Poker, and by extension, the concept of tournament poker in a freezeout format with rising blind levels as a publicity stunt to attract casino-goers.
Binion's Horseshoe was the first downtown casino to ditch sawdust for carpets, and to offer free drinks as comps, not just to high rollers, but to all gamblers.
Binion also created the Million-Dollar Display, composed of 100 10K bills, which he encased in a giant Horseshoe. The original display was sold in 2000 by his daughter, Becky Behnen, who was then in control of the casino.
It wasn't until Terry Caudill, president and owner of TLC Gaming Enterprises, purchased the casino in 2008 that the display made its comeback in the form of the pyramid stack of cash we know today.
Source: casino.org