Posted on: April 3, 2023, 02:55h.
Last updated on: April 3, 2023, 03:03h.
Road crews have begun the long and intrusive work of transforming some of Las Vegas' busiest public roadways into 3.8 miles of track for the Formula 1 Las Vegas Grand Prix. The 50-lap race and its preliminary events will be held November 16-18 along portions of Las Vegas Boulevard, Harmon Avenue, Koval Lane, and Spring Mountain Road.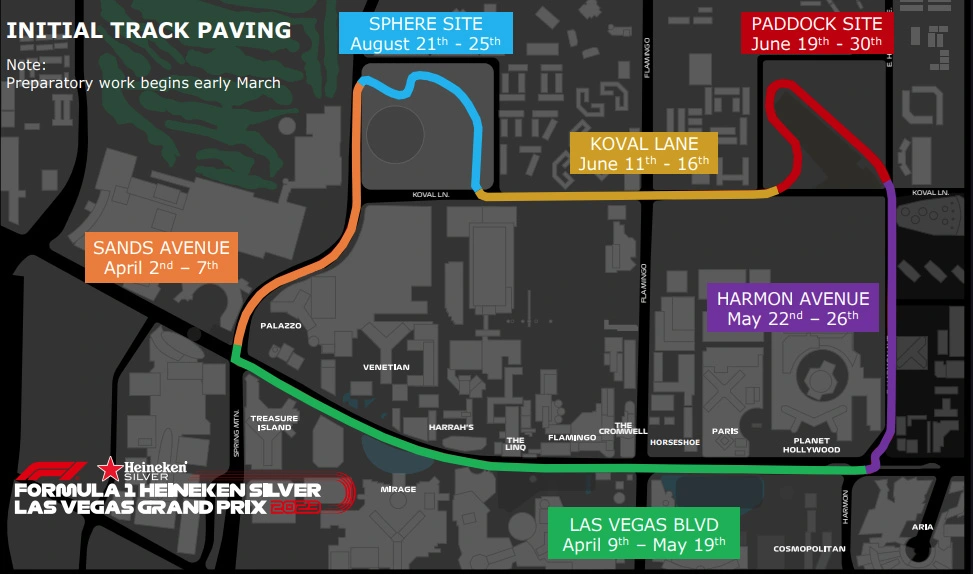 The work began Sunday with a stretch of Sands Avenue between the Strip and the future MSG Sphere. After that's complete on Friday, April 7, the Strip will follow, with paving conducted between Sunday, April 9-19. Harmon between the Strip and Koval will be next, from May 22-26, followed by Koval from June 11-16. The paddock site will be paved from June 19-30, while the MSG Sphere Zone is slated for August 21-25.
Motorists should expect rolling lane closures with each section of new road work.
A final round of track paving, with two inches of F1-approved asphalt, will occur between July 26 and September 15, according to the following schedule: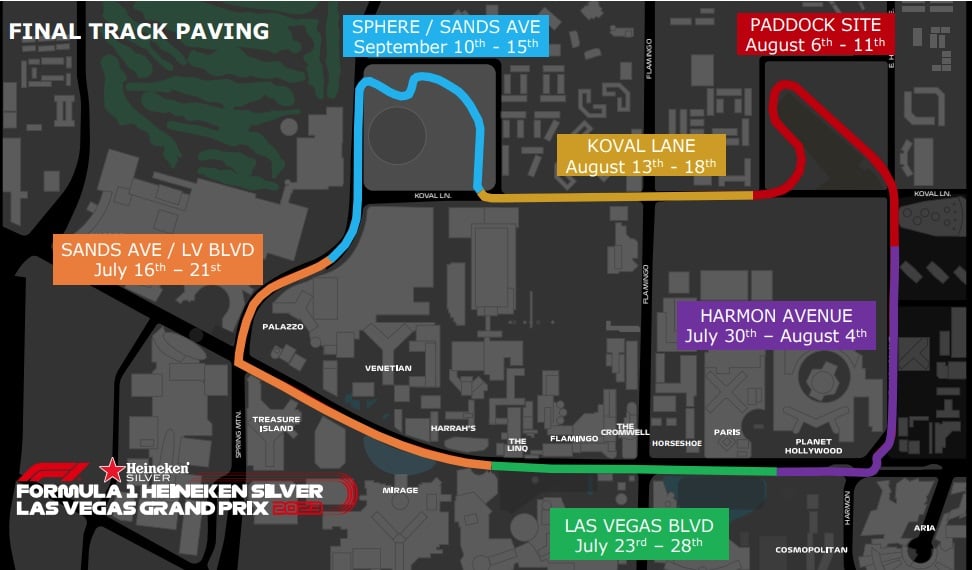 At What Cost?
Formula 1 has contracted with Las Vegas Paving Corp. for a project estimated to be worth at least $74M. How much public money will go toward that total is a matter currently under discussion. In February, despite not knowing the amount, Clark County, which governs the Las Vegas Strip, signed a 10-year contract with the Las Vegas Grand Prix.
At the end of the day, the amount of money we get back is far surpassed by the tourism benefit," Clark County Commissioner Tick Segerblom told KSNV-TV/Las Vegas recently, adding that the expense "will literally pay for itself the day the race is over."
The Las Vegas Convention and Visitors Authority (LVCVA) claims the race will inject more than $1B of economic stimulation into the local economy. And 88 cents on every $100 spent on hotel rooms will reportedly go to pay off Clark County's remaining debt for building Allegiant Stadium. The County issued $750M in municipal bonds for the $1.9B project, the rest of which was covered by the Raiders.
Source: casino.org