Posted on: April 19, 2023, 12:44h.
Last updated on: April 19, 2023, 12:46h.
An unnamed armed bandit led police on a chase which ended on I-15 when the suspect crashed a car near the Las Vegas Strip on Monday. He shot himself while in the vehicle and died at the crime scene.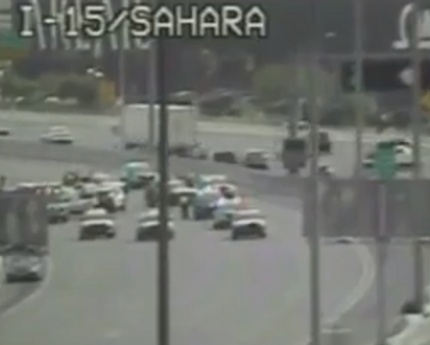 The armed robbery occurred shortly after 12 p.m. on Blue Diamond Road, according to Las Vegas TV station KLAS.
The mid-afternoon crash led to the closing of the northbound I-15 lanes between Spring Mountain Road and Sahara Avenue.
Details weren't released.
North Las Vegas Pastor, Wife Await Trial After Sex Assaults
A North Las Vegas minister was indicted recently for allegedly sexually assaulting three women.
The Rev. Bobby Cornealius Smith, 46, was indicted by a grand jury on 11 charges. They include nine counts of sexual assault, and a single count of attempted sexual assault, as well as a count of child abuse, neglect, or endangerment.
He was identified in media reports as the pastor of New Beginnings Ministries.
A woman identified as his wife, Lashawn Nicole Smith, also was indicted for sexual assault and child abuse, neglect, or endangerment.
One victim was described as a family member, and the other two women were called "God daughters," according to Las Vegas TV station KLAS.
One of the victims testified before the grand jury that Bobby Smith repeatedly forced her to use sex toys starting when she was 17 years old, KLAS reported. "God is telling me that it is important for you to do this," the victim relayed to the grand jury when asked what Bobby Smith had told her.
The victim also revealed to Lashawn Nicole Smith what took place. But the pastor's wife didn't notify the police, the victim added.
That victim said Bobby Smith used the sex toy on her at least 30 times.
A second woman who described herself as a church member claimed Bobby Smith asked that she perform oral sex on him. But she pushed him away.
A third woman, when she was 17, claimed she was texted a photo of a sex toy by Bobby Smith. Initially, she refused to use it, but then the two would meet at Las Vegas hotels and other locations where they used the device.
Bobby Smith also ordered the woman to perform sex acts with his wife. A search of the Smiths' home in North Las Vegas led to the discovery of over 20 sex toys, according to North Las Vegas police.
Bobby Smith was arrested on January 27. His trial is scheduled to begin on July 17. He remains in the Clark County Detention Center as of Tuesday. His bond was set at $225,000.
Lashawn Nicole Smith was released from custody. No date has been given for her trial.
Friends & Lovers Audience Members Sue After Concert Trampling
Three people who attended the Lovers & Friends Las Vegas music festival last May are suing organizers for alleged negligence and unsafe conditions at the Las Vegas Festival Grounds.
The lawsuit was filed recently in Los Angeles County court by the attendees. It named as defendants — Live Nation, NPB Companies, CrowdRX, Phil Ruffin, who owns the Las Vegas Festival Grounds, and Front Gate Ticketing Solutions.
On May 14, 2022, many of the audience members ran to exits, and trampled others in the audience — after they heard suspected gunfire. Authorities later revealed there were no gunfire at the festival.
The three attendees suffered "serious injuries," according to the lawsuit. The three plaintiffs yelled for help, but no one came. They also asked for emergency medical care, but that wasn't provided.
One person died while attending the festival. The Clark County Coroner's Office said the deceased person suffered from a heart condition and the death was ruled an accident, according to Las Vegas TV station KVVU.
The Las Vegas Festival Grounds is located on the north end of the Las Vegas Strip. It holds about 85,000 people. Phil Ruffin owns the open-air facility. Circus-Circus is nearby.
Source: casino.org