Posted on: June 13, 2023, 12:47h.
Last updated on: June 13, 2023, 01:19h.
They're trading modestly higher on Tuesday, but Macau casino stocks could be in for more upside as China mulls monetary stimulus to prop up its sagging economy.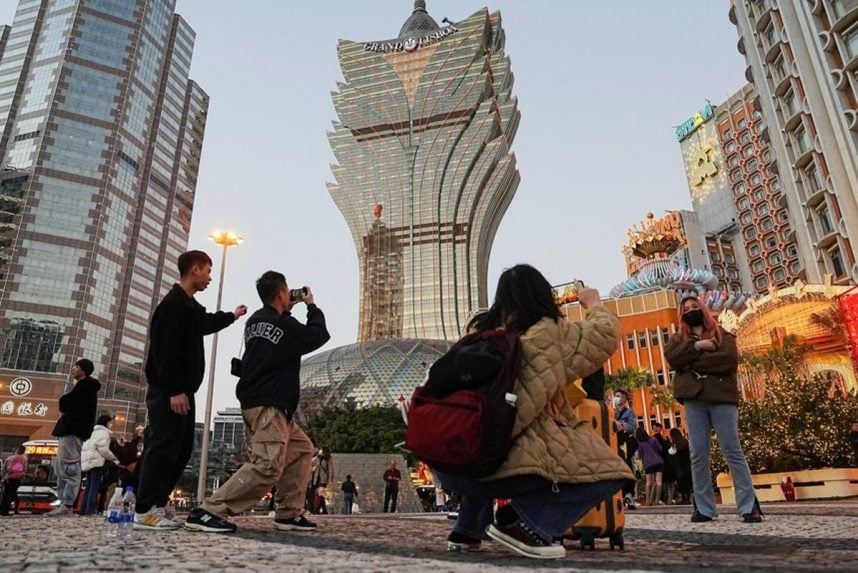 Signs of that commitment arrived earlier today when the Peoples Bank of China (PBOC) cut its seven-day reverse repo rate by 0.1% to 1.9%. Market observers believe that could be a sign of more substantial stimulus efforts in the second half of 2023. That could stoke consumer spending, which could benefit Macau concessionaires.
Gross gaming revenue (GGR) and Trip.com's (NASDAQ: TRIP) recent quarterly update confirm stimulus speculation is already boosting domestic travel in Chin.
Its (Trip.com) China-focused domestic travel business saw robust year-over-year growth (YoY), as domestic travel returned to pre-COVID levels, driving an impressive 124% year-over-year (YoY) gain in revenue. Accommodation reservation revenue increased 40% YoY, which represents a growth rate of 106% quarter-over-quarter, which is 15% higher than pre-COVID (2019)," according to KraneShares research.
On the repo rate cut news, shares of Las Vegas Sands, Melco Resorts & Entertainment (NASDAQ: MLCO), MGM Resorts International (NYSE: MGM), and Wynn Resorts (NASDAQ: WYNN) — the US-listed Macau casino stocks — are slightly higher in midday trading.
Stimulus Good News for Macau Casino Stocks
One of the primary reasons near-term monetary easing could be supportive of Macau casino stocks is that analysts expect a slight pullback in monthly GGR figures. That's not alarming when considering the May gaming revenue update was the best for the special administrative region (SAR) since January 2020.
Select operators, such as Galaxy Entertainment and Sands, may be able to endure some near-term GGR lethargy. That's because those concessionaires are popular with mass and premium mass-market players, the groups supporting Macau's casino industry, as VIPs haven't returned en masse.
"The LVS story remains largely unchanged. Singapore continues to be a bright spot and a reminder of the strong pent-up demand in the region once travel restrictions are eased," wrote Macquarie analyst Chad Beynon in a note out earlier this month. "In Macau, LVS is well positioned, given its critical mass of supply, recent investments (Londoner), industry market share (20-25%), and industry-leading margins."
The primary objective of PBOC easing isn't to lift gaming stocks. Rather, it's to support China's still fragile property market. It's also aiming to bolster an economy that continues grappling with the adverse effects of a roughly three-year shutdown deployed because of the coronavirus pandemic.
Macau Casino Stocks Prove Sensitivity
While the gains for the aforementioned US-listed gaming equities aren't jaw-dropping, the Macau units of Sands and Wynn displayed more positive correlations to the reverse repo rate cut.
On the stimulus news, Hong Kong and China were led higher by growth sectors including technology, consumer discretionary, communication services, and real estate. After the close, the rationale for the rate cut and stimulus was made evident by May aggregate financing and new loan data, which both missed expectations, i.e. both were higher month-over-month," added KraneShares.
Macau gaming equities are consumer cyclical names that trade in Hong Kong.
Source: casino.org