Posted on: July 14, 2023, 07:28h.
Last updated on: July 14, 2023, 10:08h.
This past Wednesday, authorities in Thailand arrested a man at Don Mueang International Airport in Bangkok who had been on the run for the past month. Weera "Boy" Namsup was wanted for his role in a scheme involving online gambling, but fled the country before officers could serve the arrest warrant.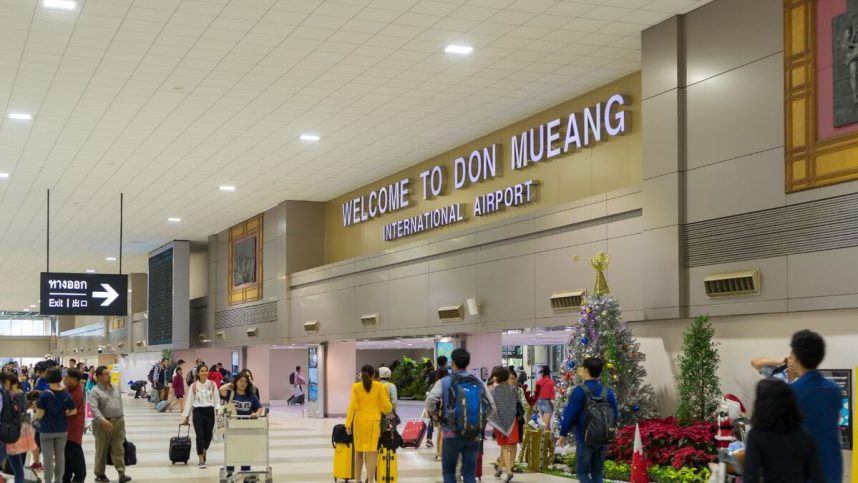 Boy was apprehended by a specialized task force with the Thai Immigration Bureau as he arrived at around 1:30 in the morning, according to local media outlet KhaoSod. The 38-year-old allegedly played a major role in the operation that netted around THB140 million (US$4 million).
His isn't the only ongoing case targeting a growing problem of gambling-related crimes in the country. The recent scandal involved police officers, and has led to a larger investigation into police corruption.
Trip Home Ends Poorly
Boy was traveling on Thai Lion Air flight SL-105 from Singapore to Bangkok, which landed at the Don Mueang airport at around 10:30 the night before. Immigration officials either learned that he was on the flight or identified him as he tried to pass through an airport security check.
At that point, law enforcement authorities escorted him to the police department's office at the airport. Upon his arrest, Boy proclaimed his innocence, adamantly denying any involvement with the scam. He had made the same comments publicly before fleeing the country last month.
As he continued to refute the charges against him, the police then transferred him to the Khu Khot Police Station. There, he's undergoing additional interrogation and will remain in custody.
Boy successfully evaded authorities a month ago, as Thai immigration officials later verified his departure from the country prior to the issuance of the arrest warrant. He fled to Singapore on June 17, two days before officers could serve the warrant.
Investigators believe he was a major player in an extortion scheme that targeted online gambling, which is illegal in Thailand. The group allegedly forced gambling operators to pay in order to keep the police away.
It isn't clear why Boy decided to return to Thailand. He had to have known that his name would pop up when he attempted to pass through immigration checkpoints.
Boy Didn't Act Alone
At about the same time police stamped the warrant for Boy, they were preparing warrants on other individuals for their involvement. Three other individuals are currently being sought by law enforcement, as they are suspected to have played different roles in the scheme.
Veera Nasab, his wife, and another individual, Phisit Nakhisornpanee, face charges of corruption and theft. Following a tip from a police source, they allegedly fled to a neighboring country on June 13.
That tip was just a small indication that the group allegedly had support from within the police ranks to help them carry out their crimes. The Bangkok Post reported last month that eight senior officers were involved in the scheme. They're accused of either actively participating by accepting bribes or of using their positions to coerce the illegal gambling operators to pay up.
Source: casino.org