Posted on: July 7, 2023, 07:36h.
Last updated on: July 7, 2023, 08:53h.
Brazil's Operation Maximum Penalty investigation into match-fixing in sports has led to more trouble for athletes. On Thursday, the Superior Court of Sports Justice (STJD for its Portuguese acronym) closed another chapter in one of the biggest scandals to hit Brazilian soccer, handing down fines, permanent bans, and temporary suspensions.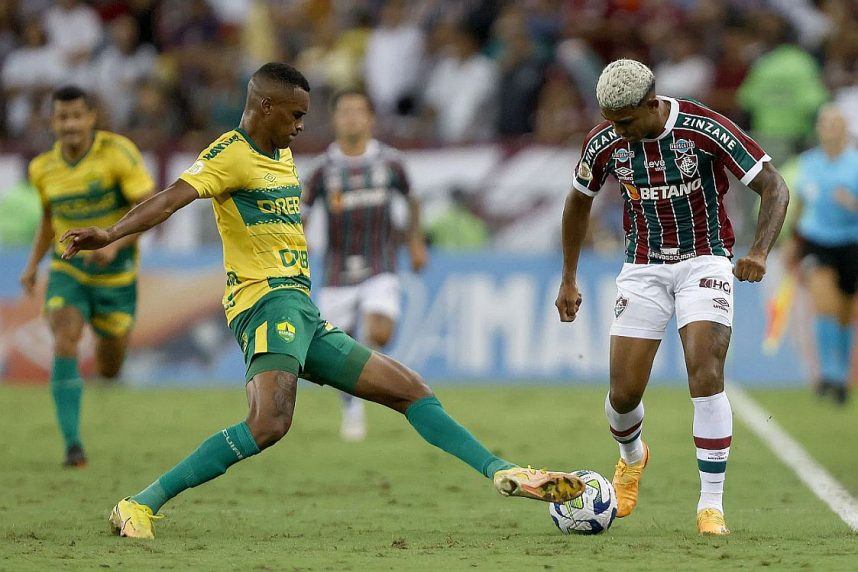 Earlier this year, it emerged that there were several cases of players who had received money for directly influencing matches in various soccer categories, mainly through red or yellow cards, or expulsions. An investigation that led to the scandal began last year after Romário, a Vila Nova midfielder, confessed to having received BRL150,000 (US$30,480) for having committed a penalty against Sport Recife.
Since then, Maximum Penalty has identified several more cases. The investigation initially focused on low-tier soccer in Brazil before it uncovered issues at all levels and, ultimately, global soccer that included Brazilian players.
More Athletes Fall
One of the most prominent cases was that of Kevin Lomónaco, a central defender for Red Bull Bragantino. Currently playing in the Copa Sudamericana tournament, the Argentine was separated from Bragantino and told the court that he was not aware that his actions were a crime.
This past May, he admitted to receiving BRL30,000 (US$6,096) for picking up a yellow card during a match against América Mineiro. After confessing his crimes, the court hit him with a suspension of 380 days and a fine of BRL25,000 (US$5,080).
His wasn't the only case within the Brasileirao, the top tier of Brazilian soccer. Eduardo Bauermann, then with Santos FC, also ended up on the list of problem athletes after it was confirmed he received US$10,000 for getting a yellow card in a match against Avai. That game took place on November 5 of last year, and Santos fired him from the club immediately after the incident became known.
In addition to these two players, the STJD charged six more. They are Fernando Neto (now with Sao Bernardo, but with Operário at the time the investigation began), Gabriel Tota (formerly with Juventude), Matheus Gomes (Ipatinga), Onitlasi Moraes (formerly with Juventude, now on loan to Aparecidense-GO), Paulo Miranda (formerly with Juventude) and Igor Cariús (Sport Recife).
The STJD presented its sentence against all of them on Thursday. It found them all guilty, except one. Cariús was acquitted of all charges.
Careers Come to an End
Bauermann, who found a new home with Alanyaspor in Turkey, received a 380-day suspension like Lomónaco, but had to pay a BRL35,000 (US$7,112) fine. Neto will receive a 12-month suspension and will have to pay a fine of BRL$15,000 (US$3,048).
Moraes and Miranda received fines of BRL55,000 and BRL70,000 (US$11,176 and $14,224), respectively. They also received 720-day suspensions.
The most severe punishments were for Tota and Gomes since both received lifetime bans. They will also have to pay fines of BRL30,000 and BRL10,000 (US$2,032).
The cases involving Moraes and Miranda were the most complicated since they had received money for influencing more than one game. In addition, according to media outlet Globo, both were seen in a video call with one of the heads of the illegal sports betting organization that ran the match-fixing scam.
The scandal isn't over yet, as the Brazilian government is conducting its own investigation by means of a Parliamentary Investigation Commission. That inquiry continues, but is taking a break. Brazil's Parliament goes on break from July 18-31, after which the commission will pick up where it left off.
Source: casino.org