Posted on: February 17, 2023, 08:05h.
Last updated on: February 16, 2023, 03:29h.
In one of the Las Vegas Convention and Visitor Authority's funny new TV commercials, a father informs his son that broccoli is "the only food they have" in Vegas. "Everything is broccoli," including the ice cream, he tells the grimacing tyke, who elects to stay home instead.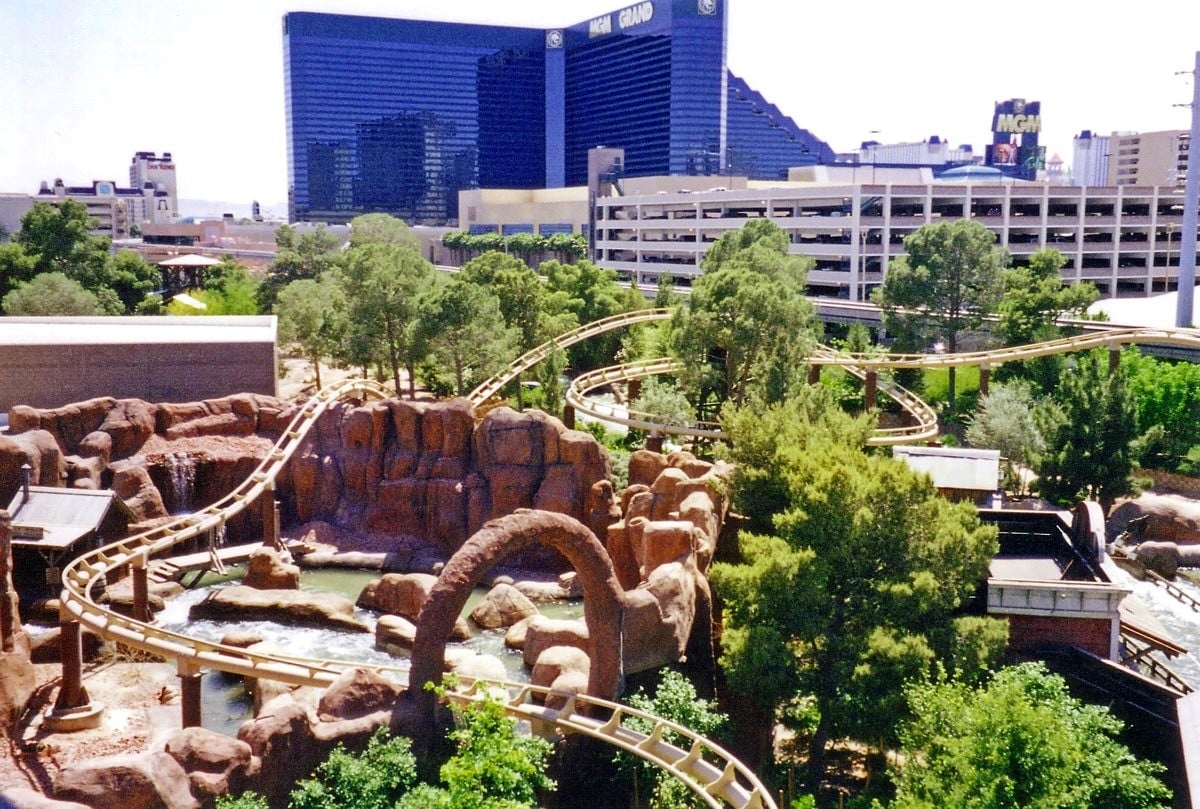 In the '90s, Las Vegas wanted you to come with your kids. Now, it wants you to leave them home. That's because Vegas' attempt at appealing to families failed miserably, leading to a massive loss of revenue. Right?
Nope.
In 1993, a new MGM Grand opened. (The old one became Bally's, and now, Horseshoe.) The largest single hotel in the world with 6,852 rooms, MGM was the first resort to top $1 billion in construction costs. It was also the first new Vegas resort to directly target families since Circus Circus opened in 1968.
In addition to a "Wizard of Oz" display featuring prominently inside the casino, MGM built a $100M amusement park on 33 acres out back. Its rides included a roller coaster, log flume, rapids raft, and a simulated film studio backlot boat tour.
By 1996, Dorothy and Toto were gone, and by 2000, so was the amusement park. Disappointing attendance was to blame, as it usually is. At the time, the Las Vegas Review-Journal reasoned that MGM Grand Adventures "failed to take into consideration that a third of its visitors come from California, where theme parks are ubiquitous and always racing to unveil the latest in thrill rides."
Here's the thing, though: nearly all of the other attractions that debuted during Las Vegas' supposed family-friendly failure survived and continue to thrive. They include the Circus Circus Adventuredome, New York-New York's roller coaster, the Big Shot ride atop the Stratosphere, Mandalay Bay's beach and wave pool, and M&M's World.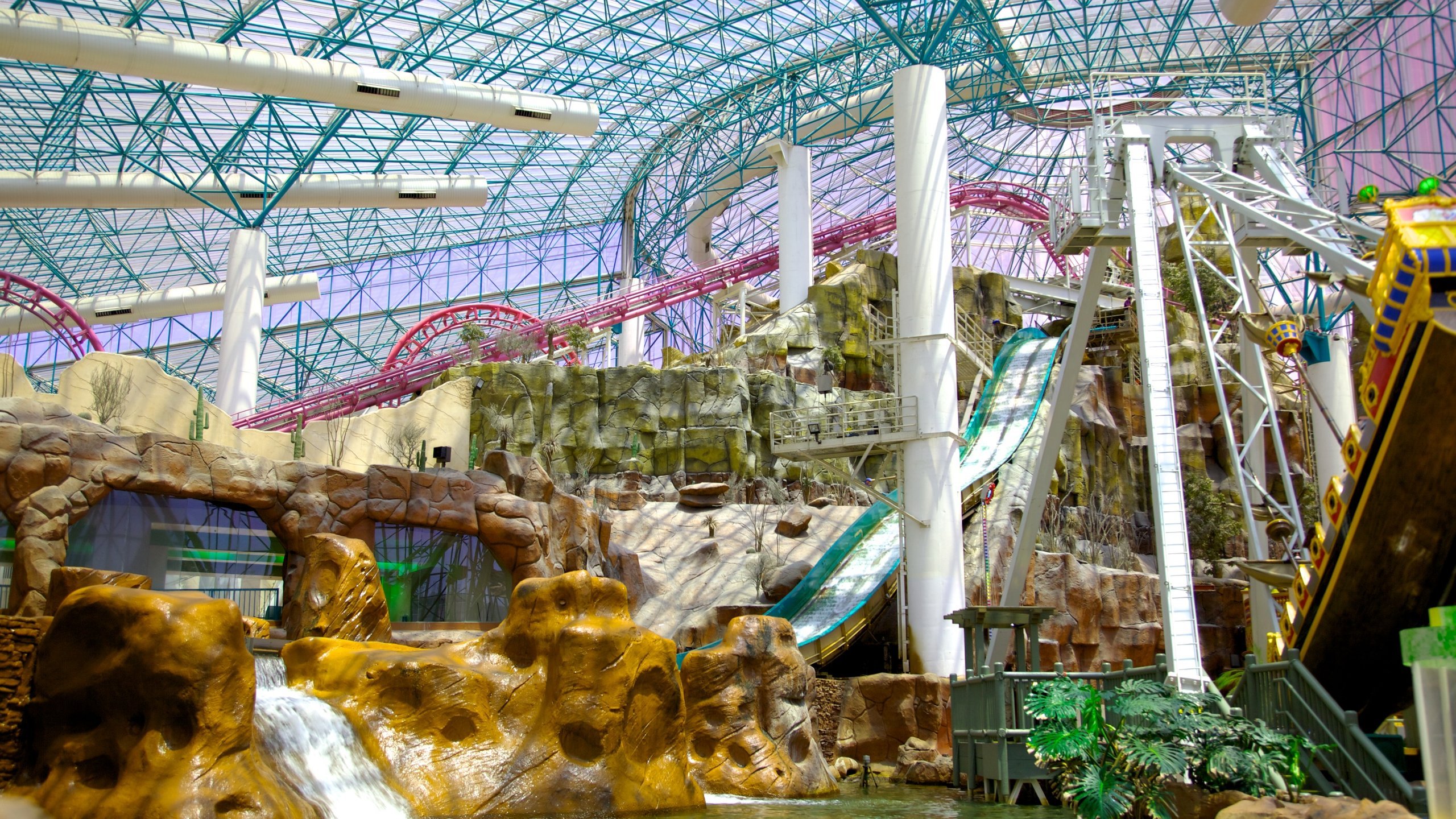 The only other major example of a kid-friendly attraction to debut in the '90s and close in the aughts was Caesars Magical Empire, an almost completely forgotten "high-tech, elaborately themed, multi-chambered wonderland" geared at visitors aged 12 and up. It opened in 1996 and closed in 2002. Though it was three hours long and included dinner, it cost a whopping (for back then) $125 to $200 per person. And frankly, reviews were mixed.
Despite these two closures, Vegas has added new kid-friendly attractions every year of the new millennium so far. The Stratosphere (now The Strat) debuted three rides (X-Scream, Insanity, and SkyJump) that still keep thrilling on its upper decks, though it removed its High Roller roller-coaster in 2005. It was the world's highest coaster, but also one of its slowest.
Shows targeting kids, which also debuted during the family-friendly push, are also still around. Today's include Mac King's comedy magic show at the Excalibur, Nathan Burton's magic show at the Miracle Mile Shops, and Popovich Comedy Pet Theater at the Miracle Mile Shops.
Last year, a 7K square-foot video arcade replaced the former sportsbook at Bally's/Horseshoe. And the immersive, 200K square-foot Area 15 art experience – featuring the Virtualis VR game room – opened in 2020, and is expanding to feature Universal's first year-round horror experience not connected to a theme park.
Failure of Failure Evidence
After the MGM Grand amusement park, the most frequently cited evidence for the failure of Las Vegas' to appeal to families is the free pirate show once staged five times a night in front of MGM's Treasure Island. In 2003, the casino's new owner, Phil Ruffin, transformed "The Battle for Buccaneer Bay" into an MTV-inspired attempt to titillate Gen-Xers called "Sirens of TI." When Ruffin mercy-killed that another 10 years later, the media made a big deal about the last family-friendly Vegas vestige going away.
But what this closure really signaled was the end of a different trend. Steve Wynn declared war on resort themes with his Mirage in 1989 and vanquished the trend with his Bellagio nine years later. The impulse to build more pyramids, Eiffel Towers, and Venetian canals gave way to a desire to appear more luxurious than the next guy.
Ironically, the casino space that previously served as the backstage area for both pirate shows is now rented by Victory Hills Exhibitions for its Marvel Avengers Station attraction, which opened in 2016.
A kids show.
Success by the Numbers
The biggest problem with the family-friendly failure myth is that numbers don't bear it out. Between 1993 and 1994, Vegas visitation grew from 23.5M to 27.2M. Discounting the recent post-pandemic recovery, this remains the largest single annual percentage uptick in tourism ever. Also, from 1992 to 1996, the percentage of families visiting Las Vegas rose from 7% to 12%, according to the LVCVA. Today, that number is a whopping 21%.
So, the next time you see a commercial about Vegas' broccoli ice cream, another way to read that is that Vegas now appeals so strongly to families, casinos now need more adults drinking and swearing at their blackjack tables to even things out.
Look for "Vegas Myths Busted" every Friday on Casino.org. Click here to read previously busted Vegas myths. Got a suggestion for a Vegas myth that needs busting? Email [email protected].
Source: casino.org