Posted on: May 22, 2023, 03:28h.
Last updated on: May 22, 2023, 03:45h.
The world's record for the highest basketball shot has officially been set from atop The Strat (formerly the Stratosphere) casino hotel in Las Vegas, according to Sports Illustrated.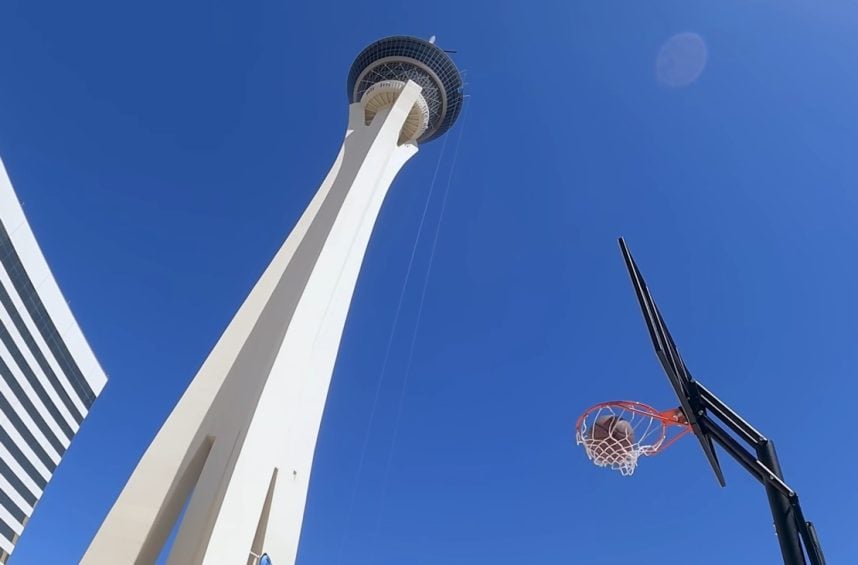 Tyler Toney — a member of the Dude Perfect YouTube channel — landed the shot on April 20 after more than 900 attempts spanning three days. He took the shot from 855 feet above the ground while harnessed onto the jumping platform for The Strat's SkyJump attraction.
Dude Perfect didn't post the video documenting its impossible shot until May 20, 2023, which alerted the world to the record. So far, more than 3.5 million YouTube users have watched it.
Toney, twins Cory and Coby Cotton, Cody Jones, and Garrett Hilbert are residents of Frisco, Texas, who all attended Texas A&M together. In the 14 years since, they've dedicated their YouTube channel to filming and posting impossible trick basketball shots.
Dude Perfect set the same Guinness World Record in 2016 when it sank a basketball from atop a 530-foot tower in Oklahoma City, OK.
Recapturing Fame
But Dude Perfect's record was broken two years later by How Ridiculous, a competing YouTube channel from Australia, which sank a shot from 660 feet above Maletsunyane Falls in South Africa.
Dude Perfect gave itself three days to recapture the gold. And, as you can see from the video, it came right down to the wire.
Through creative director Ryan Britton designed a 10,000 square-foot net system to catch errant basketball shots and protect The Strat's roof, most of Toney's shots missed the roof entirely.
Fewer than five attempts even made it within 10 feet. And none, before the winning shot, even hit the rim. Instead, they bounced off windows at The Strat's hotel tower, a team member's car, and even into the balcony of a neighboring apartment building.
Hoop Nightmares
On their second day of attempts, Dude Perfect gave up entirely and decided to head home.
"You know you only have three days in Vegas, so you want to keep ripping off shots because if you don't, you're never going to make it," Coby Cotton said, "but it's a really serious safety concern… It's not worth it to cause a wreck, injure somebody."
The team reconsidered the next day, only after the general manager of The Strat offered to close its valet parking area and the wind appeared to die down. At 2:33 p.m., one of Toney's shots curved dramatically toward the hoop and swished in.
Before making its attempt, the Dude Perfect team placed a Zoom call with the then-record-holders, seeking advice.
How Ridiculous member Mark Rober stated: "It's just not going to happen. I will eat a basketball if you guys get this shot."
No word on when Rober intends to eat that basketball.
Source: casino.org