Posted on: June 6, 2023, 05:11h.
Last updated on: June 6, 2023, 05:11h.
While there's no publicly revealed link between the recent 12 equine deaths at Churchill Downs, an analyst believes it's possible some trainers allowed unhealthy horses to race at the Kentucky track.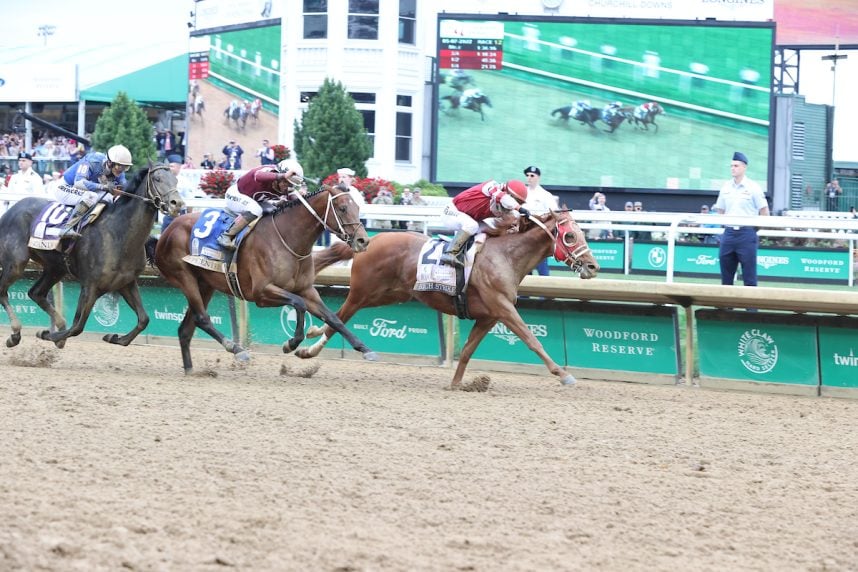 In a note to clients today, Truist Securities analyst Barry Jonas said he spoke with Churchill Downs (NASDAQ: CHDN) management Monday as the stock shed $650 million in market value in the first trading day following the announcement the operator's spring meet will be suspended starting tomorrow and moved to Ellis Park.
(Churchill Downs) paused track-based incentives and limited purse payouts to the top five finishers," observed the analyst. "We think prior policies may have driven some trainers to race unhealthy horses."
He didn't mention specific trainers that could be guilty of that misdeed, but in May, Saffie Joseph Jr. was suspended indefinitely by Churchill following the deaths of two his horses — Chasing Artie and Parents Pride.
Churchill Downs Taking Seriously Equine Fatalities
Churchill Downs stock recovered some of Monday's 6.1% decline, jumping 4% today on volume that was above the daily average.
Jonas maintained a "buy" rating on the shares with a split-adjusted price target of $150. That implies upside of 8% from today's close. Echoing sentiment from some of his colleagues, the Truist analyst pointed out that Churchill derives only small financial contributions from live racing at its namesake track, excluding Kentucky Derby Week contests, but adds getting to the bottom of the equine fatalities is a priority for management.
"Management is taking the fatalities and potential for repetitional risk very seriously," added Jonas.
The recent deaths at Churchill Downs follow a spate of similar incidents at other tracks, including some on the West Coast, in recent years. Those fatalities drew scrutiny from animal rights groups and prompted some in the investment community to speculate the reputation of the domestic horse racing industry is at risk — a sentiment echoed in the wake of the tragedies at the famed Kentucky track.
Churchill stock has felt some pressure, slumping 6.25% over the past month, but Jonas believes that weakness will be "short-lived." The shares are up 31.36% year-to-date.
Churchill Downs Long-Term Outlook Solid
The cause of the equine deaths needs to be identified and the situation equates to bad public relations for Churchill Downs, but the long-term outlook for the gaming company is attractive.
Jonas said the operator can double its free cash flow to $1.4 billion by 2026 or 2027, adding that the $200 million paddock project could generate annual return on investment of 10% while paying for itself in just eight years. That space will include 2,400 standard seats, 3,600 premium seats and 3,250 standing room only spaces. Regarding horse safety, the company is looking to bolster those standards in advance of the 2024 Kentucky Derby.
"We believe the new initiatives should drive confidence in [Churchill Downs's] commitment to the safety of the race participants," concluded Jonas.
Source: casino.org