Posted on: April 12, 2023, 03:01h.
Last updated on: April 12, 2023, 03:09h.
With the Macau recovery proving stronger than many analysts and experts forecast, Las Vegas Sands (NYSE: LVS) ranks as one of 2023's best-performing gaming equities, and its 17% gain is well ahead of major equity benchmarks.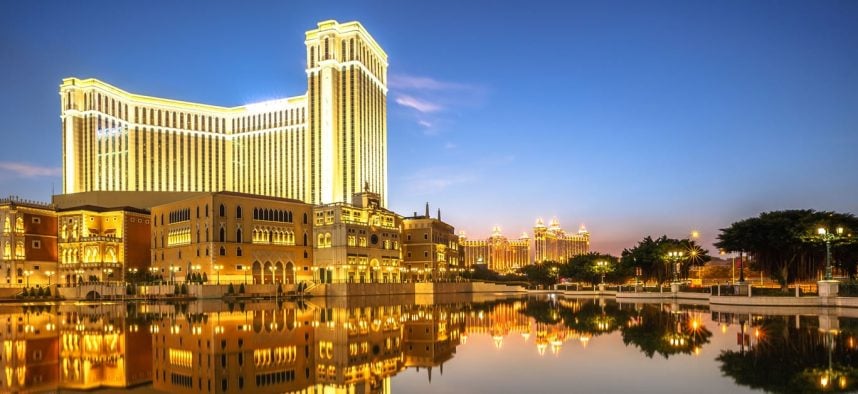 At least one analyst sees more upside in the offing for the Marina Bay Sands operator. In a new note to clients, Roth MKM analyst Edward Engel initiated coverage of Sands with a "buy" rating and a $74 price target, citing the Macau recovery. With March standing as the special administrative region's (SAR) best month in gross gaming revenue (GGR) since January 2020, market participants are understandably enthusiastic about the pace of recovery there.
"While investors are merely focused on a full earnings before interest, taxes, depreciation and amortization (EBITDA) recovery by 2024, we believe Macau is in the early innings of a multi-year growth cycle and model EBITDA recovering by YE2023 and exceeding 2019 by 10% in 2024E," wrote Engel.
Why it Matters to Las Vegas Sands
The sensitivity of Sands shares to goings on in Macau is understandable. The operator controls five integrated resorts there, the largest number among the SAR's six concessionaires.
Beyond that, data suggest that to start 2023, Sands China is winning market share from its rivals across three key segments: mass, premium mass, and VIP. Among US-listed companies outside of the technology sector, just a handful — a group including Wynn Resorts (NASDAQ: WYNN) — derive larger percentages of EBITDA and revenue from China than does LVS.
Macau's newly revised gaming law includes limits on the number of table games each casino can offer. That's beneficial to Sands and Galaxy, which were already dominant in the mass segment, because analysts expect the new requirements will compel operators to increase offerings geared toward mass and premium mass customers.
Those are among the reasons the stock might have more fuel for upside growth this year. Speaking of that, Engel's $74 price target implies upside of about 32% from current levels, and is well above the Wall Street consensus of $65.24.
China Interest Rates Could Help Sands
Owing to the fact that it currently has no domestic gaming properties, Sands isn't heavily correlated to US monetary policy. However, the stock could benefit if the Peoples Bank of China, that country's central bank, reduces borrowing costs.
"We also believe Beijing is in [the] early stages of a policy loosening cycle which historically precludes several years of Mass GGR growth and elevated Macau valuations," added Engel.
The analyst also pointed out that investors aren't fully appreciating the potential benefits LVS could accrue from the new Londoner and Four Seasons expansion in Macau.
Source: casino.org