Posted on: June 9, 2023, 09:46h.
Last updated on: June 9, 2023, 10:22h.
A suspect was arrested last week after allegedly burglarizing seven guest rooms at the Paris Las Vegas hotel. He stole over $5K in just a few hours, police said.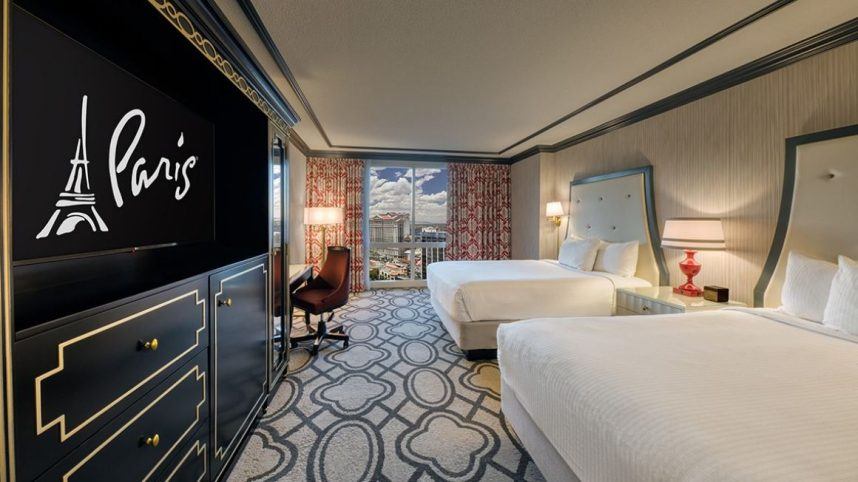 Robert Black was apprehended in a sting set up on June 2 by security staff at the Paris. The operation was created after guests complained their cash and personal items were stolen from hotel rooms and suites.
Security guards placed a wallet stuffed with $600 in the "bait room" along with other valuable items and installed hidden surveillance cameras, according to Las Vegas TV station KLAS.
Guards were on duty in a room next door where they monitored the bait room on video.
Black soon walked in and stole the wallet that was left in a suitcase. Guards sprang into action and apprehended him before turning him over to Las Vegas Metropolitan Police Department (LVMPD) officers.
A search revealed that Black was carrying $5,365 in US cash and $990 in Canadian money. Officers also found he had a key for a Paris hotel room that was stolen from a guest, as well as a flathead screwdriver.
He was charged with five counts of residential burglary and a single count of attempted residential burglary.
A records check revealed Black was convicted for conspiracy to commit robbery and attempted burglary in 2017, KLAS reported.
Thefts While Guests Slept
Many guests at the hotel reported that their cash was stolen during break-ins between 3 a.m. and 8 a.m. on June 2.
One couple in a ninth-floor suite was awoken when the door to their room opened at about 3 a.m. One of the guests spotted a shadowy figure and soon heard the sound of a door closing. The guest discovered $550 was stolen from his wallet.
LVMPD officers noted there were pry marks around the door's lock and the peephole was removed, KLAS reported.
About a half hour later, another couple also heard their door opening in an 11th-floor suite. One of the guests shouted, "Who is it?" There was no response and they heard the door close. Nothing was stolen.
Also, at about 3:30 a.m., $244 was stolen from a 12th-floor room.
Then, at 6 a.m., a guest awoke to discover about $2,400 in cash and a money clip valued at $80 were stolen from his seventh-floor suite. The door's peephole was damaged, according to police.
At about the same time, a guest on the 11th floor woke up to find $1,100 in U.S. cash and $800 in Canadian money were missing. Another couple said that $925 was swiped from their room while they were asleep during the night.
In each instance, the rooms and suites were close to hotel elevators. All of the rooms were in the same hotel wing, the peepholes on all of the doors were tampered with, and the guests were in the rooms during the break-ins, police said.
Increased Burglaries
The successful sting was put in place after the hotel saw an increased number of thefts in guest rooms since April, KLAS reported. The Las Vegas Strip property has some 2,916 rooms or suites.
Source: casino.org