Posted on: July 28, 2023, 12:25h.
Last updated on: July 28, 2023, 12:51h.
The proposed A's stadium in Las Vegas is going back to the drawing board.
Literally.
A's director of design Brad Schrock told the Las Vegas Review-Journal this week that the team is instructing the architectural groups vying to build the ballpark to forget about the renderings it released to the press on May 26.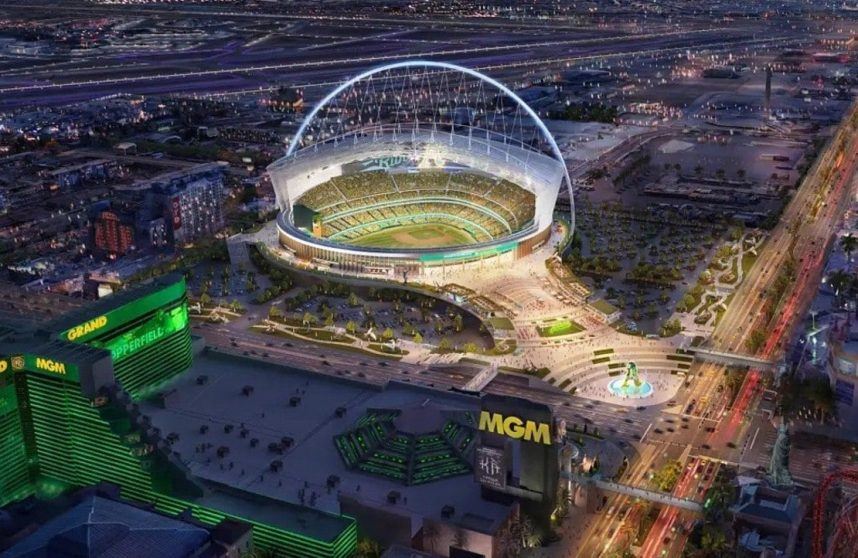 The two groups are the Las Vegas-based firm, Gensler, and a combination of two firms — HTNB, which assisted in Allegiant Stadium's design, and Bjarke Ingels Group, which created the Athletics' Howard Terminal plans.
"We told the groups, 'You saw renderings in the newspaper, but wad those up for now,'" Schrock said. "We are really encouraging them to think creatively about the different ways to solve the problem. It will be fun to see what we get back."
What's the problem Schrock is referring to? The renderings appear to show the 30K-seat stadium on a much larger lot than the one the A's will have once the Tropicana gets demolished. Stadiums with retractable roofs are not generally feasible on lots as small as the A's is.
"The real interesting problem about the Tropicana site is we have a footprint that's basically constrained within nine acres," Schrock told the newspaper. "Traditionally [with] big, retractable roofs, you move off of the footprint."
Infield Fry Rule
Might the A's may be forced to play outside in the intolerable Las Vegas summer heat, which on July 16 reached 116 degrees Fahrenheit?
No. Worst-case scenario, the roof would be fixed and the air conditioned. It's the walls that could open — to allow outside air in when the weather is cooler. That design is part of other Southwestern stadiums including Allegiant and the Arizona Diamondbacks' Chase Field in Phoenix.
"That's a much more economical solution than trying to move a big piece of the roof," Schrock told the newspaper. "It also gives us the ability to create some pretty dynamic views (of the Strip) out of the outfield wall. All of those things are being studied right now."
In addition, Soo Kim, chairman of Bally's Corporation, which owns the Tropicana, previously told the R-J that it could allow the A's access to extra land if needed for a retractable roof.
Either way, those renderings served a purpose, though — to help get Nevada lawmakers to approve the $380 million in taxpayer money that will help build the stadium.. After several special sessions, Nevada Gov. Joe Lombardo signed Senate Bill 1 into law on June 15.
The R-J reported that the two groups have until early November to give the A's a 75% concept design of their stadium. A winner will be chosen based on "constructability and cost."
Source: casino.org